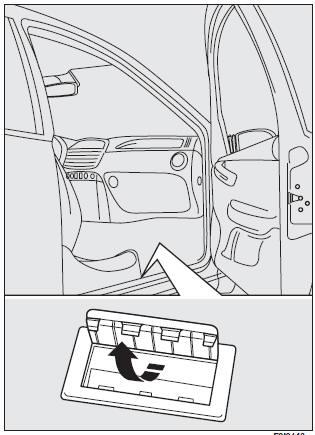 It is printed on the passenger compartment floor, near the right-hand front seat.
It can be reached by lifting the special flap in the carpeting and includes the following data:
❒ car model (ZFA 188000);
❒ chassis number.
See also:
Refuelling
To ensure full tank refuelling, carry out two top-up operations once the delivery gun has turned off twice. Avoid further top-up operations which could cause faults in the fuel system. The car mu ...
Failure warnings
In the event of failure, the ESP system is automatically disconnected and the instrument panel warning light á will come on with fixed light together with the message on the reconfigurable ...
TIREFIT Kit Components And Operation
1. Sealant Bottle 2. Deflation Button 3. Pressure Gauge 4. Power Button 5. Mode Select Knob 6. Sealant Hose (Clear) 7. Air Pump Hose (Black) 8. Power Plug Using The Mode Select Knob And Hose ...