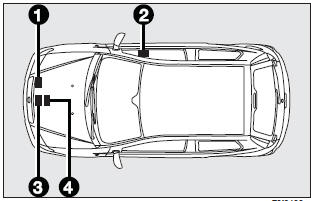 You are advised to note the identification codes. The identification data stamped and given on the plates and their position are the following:
1 - Model plate
2 - Chassis marking
3 - Bodywork paint identification plate
4 - Engine marking.
See also:
Car inactivity
If the car is to be left inactive for longer than a month, the following precautions should be noted: ❒ park the car in covered, dry and if possible wellventilated premises; ❒ engage ...
19. Engine Temperature Warning Light
This light warns of an overheated engine condition. The engine coolant temperature indicator will illuminate and a single chime will sound after reaching a set threshold. If the light turns on w ...
Recirculation
Move slider (B) to . This function is particularly useful when the outside air is heavily polluted (in a traffic jam, tunnel, etc.). However, it is better not to use it for long periods, especial ...