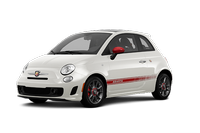 Something of an Italian answer to the VW Beetle, the original Fiat 500 was produced from 1957 through 1975 and featured a rear-mounted, air-cooled engine of just 500cc (a half-liter) in size. Among the 500's (or Cinquecento's) lovable traits were its diminutive yet space-efficient body that made maneuvering in crowded European cities a snap, an available large fold-back canvas sunroof and a small appetite for fuel.
See also:
At the filling station
Make sure that the left-hand sliding side door is completely closed before refueling. You could damage the door and the sliding lock system which comes into play when the fuel flap is open. Y ...
Customer Assistance For The Hearing Or SpeechImpaired (TDD/TTY)
To assist customers who have hearing difficulties, the manufacturer has installed special TDD (Telecommunication Devices for the Deaf) equipment at its customer center. Any hearing or speech impai ...
Parking Lights
To turn on the parking lights, remove the key or turn the ignition to OFF/LOCK position and turn on the headlights. ...