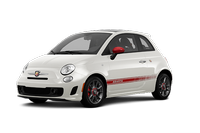 Something of an Italian answer to the VW Beetle, the original Fiat 500 was produced from 1957 through 1975 and featured a rear-mounted, air-cooled engine of just 500cc (a half-liter) in size. Among the 500's (or Cinquecento's) lovable traits were its diminutive yet space-efficient body that made maneuvering in crowded European cities a snap, an available large fold-back canvas sunroof and a small appetite for fuel.
See also:
Air Conditioner Maintenance
For best possible performance, your air conditioner should be checked and serviced by an authorized dealer at the start of each warm season. This service should include cleaning of the condenser f ...
Sidelights
Turn the knurled ring to . The warning light on the instrument cluster will come on. ...
25. Temperature Gauge
The temperature digital scale shows engine coolant temperature. Any reading within the normal range indicates that the engine cooling system is operating satisfactorily. The gauge pointer will lik ...