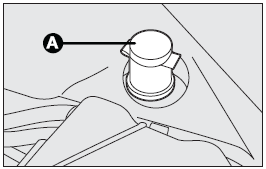 To top up, remove the cap (A) and then pour a mixture of water and TUTELA PROFESSIONAL SC 35, in the following concentrations:
❒ 30% TUTELA PROFESSIONAL SC 35 and 70% water in summer;
❒ 50% TUTELA PROFESSIONAL SC 35 and 50% water in winter.
In case of temperatures below –20°C, use undiluted TUTELA PROFESSIONAL SC 35.
Check level through the reservoir.
WARNING
Do not travel with the windscreen washer reservoir empty: the windscreen washer is fundamental for improving visibility.
WARNING
Certain commercial additives for windscreen washers are inflammable. The engine compartment contains hot components which may set it on fire.
See also:
Replacement Parts
Use of genuine parts for normal/scheduled maintenance and repairs is highly recommended to ensure the designed performance. Damage or failures caused by the use of non-genuine parts for maintenanc ...
Inflating procedure
Proceed as follows: ❒ Position the involved wheel with the inflation valve (A) set as shown in the figure, then pull up the handbrake; ❒ Screw the filler hose (B) to the cylinder ...
Interior equipment
GLOVE BOX fig. 95 Operate handle A as shown by the arrow to open the compartment. MAGNETIC CARD POCKET - TICKET POCKET fig. 96 (where provided) Slots for keeping magnetic cards (telephone cards, ...