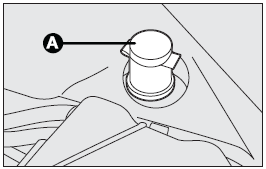 To top up, remove the cap (A) and then pour a mixture of water and TUTELA PROFESSIONAL SC 35, in the following concentrations:
❒ 30% TUTELA PROFESSIONAL SC 35 and 70% water in summer;
❒ 50% TUTELA PROFESSIONAL SC 35 and 50% water in winter.
In case of temperatures below –20°C, use undiluted TUTELA PROFESSIONAL SC 35.
Check level through the reservoir.
WARNING
Do not travel with the windscreen washer reservoir empty: the windscreen washer is fundamental for improving visibility.
WARNING
Certain commercial additives for windscreen washers are inflammable. The engine compartment contains hot components which may set it on fire.
See also:
"Follow me home" device
This function allows the illumination of the space in front of the car. Activation With the ignition key at STOP or removed, pull the left-hand stalk towards the steering wheel and operate it wi ...
Front Windshield Wiper Operation
There are five different modes of operation for the front windshield wipers. The windshield wiper lever can be raised or lowered to access these modes: Windshield Wiper Operation Windshield Wip ...
Traction Grades
The Traction grades, from highest to lowest, are AA, A, B, and C. These grades represent the tire's ability to stop on wet pavement, as measured under controlled conditions on specified government ...