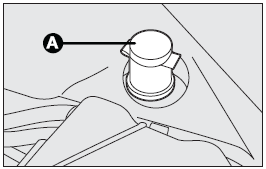 To top up, remove the cap (A) and then pour a mixture of water and TUTELA PROFESSIONAL SC 35, in the following concentrations:
❒ 30% TUTELA PROFESSIONAL SC 35 and 70% water in summer;
❒ 50% TUTELA PROFESSIONAL SC 35 and 50% water in winter.
In case of temperatures below Ц20∞C, use undiluted TUTELA PROFESSIONAL SC 35.
Check level through the reservoir.
WARNING
Do not travel with the windscreen washer reservoir empty: the windscreen washer is fundamental for improving visibility.
WARNING
Certain commercial additives for windscreen washers are inflammable. The engine compartment contains hot components which may set it on fire.
See also:
Set clock
Press button h. Each pulse on the button will obtain increase by one unit. Automatic fast increase is obtained by keeping the button pressed for few seconds. When you are near the required value, ...
1. Glow Plug Light Ч If Equipped
The Glow Plug light will flash during engine oil viscosity sensor measurement in cold weather. During this measurement (up to 10 seconds), the starter will be disabled. If the measured oil visc ...
Set clock
To adjust the time, press button (+) to increase minutes, button (Ц) to decrease minutes. Every press on the button increases or decreases by one unit. Keeping the corresponding button pressed o ...