To prevent opening the sliding side doors from the inside.
Engage by inserting the tip of the ignition key as shown in fig. 113 and turning it.
Position 1 - device off.
Position 2 - device on.
The device will be engaged even if the doors are unlocked electrically.

When children are present in the vehicle this device should always be used.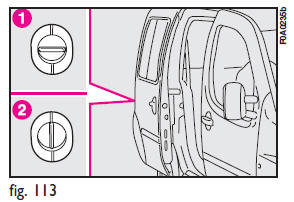 See also:
Wind Buffeting
Wind buffeting can be described as the perception of pressure on the ears or a helicopter-type sound in the ears. Your vehicle may exhibit wind buffeting with the windows down, or the sunroof (if ...
ESP system failure
Turning the ignition key to MAR, the warning light on the dial comes on but shall go off after few seconds. If the warning light does not go off or stays on when travelling (on certain versio ...
Air Conditioning (A/C)
The Air Conditioning (A/C) button allows the operator to manually activate or deactivate the air conditioning system. When in A/C mode with the ATC set to a cool temperature, dehumidified air flow ...