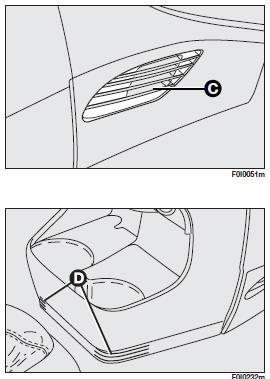 (C) - (D) Fixed vents for conveying air to the footwell.
See also:
Heating
Proceed as follows: ❒ rotate knob (A) (pointer on ) completely to the right; ❒ turn knob (C) to the required speed; ❒ move knob (D) to: to warm the feet and at the same ...
Body Lubrication
Locks and all body pivot points, including such items as seat tracks, door hinge pivot points and rollers, liftgate, tailgate, sliding doors and hood hinges, should be lubricated periodically with ...
Jacking the vehicle
WITH THE JACK See "If a tyre is punctured", in this section. The jack should only be used to change a wheel on the vehicle for which it was designed. It should not be put to other uses or employe ...