Version with central dashboard unit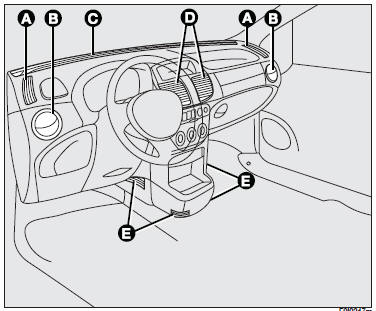 A - Fixed side vents - B - Adjustable side outlets - C - Fixed upper vent - D - Fixed central vent - E - Lower vents
Version with central tunnel unit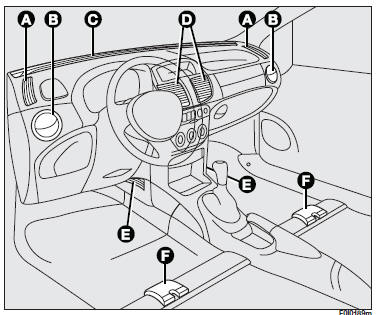 A - Fixed side vents - B - Adjustable side outlets - C - Fixed upper vent - D - Fixed central vent - E - Lower vents - F - Lower vents for rear seats
See also:
Loading ramps
Loading ramps are available at Line accessory Fiat. Loading with ramps shall be only carried out with the vehicle stationary and handbrake engaged. Never move the vehicle with ramps extracted. ...
Low engine oil pressure
Turning the key to MAR the warning light on the dial turns on, but it should go off as soon as the engine is started. If the warning light turns on when the car is travelling (on certain ver ...
Tyre pressure
Check the pressure of each tyre, including the spare, every two weeks and before long journeys. The pressure must be checked when the tyre is rested and cold. It is normal for the pressure to rise ...