Version with central dashboard unit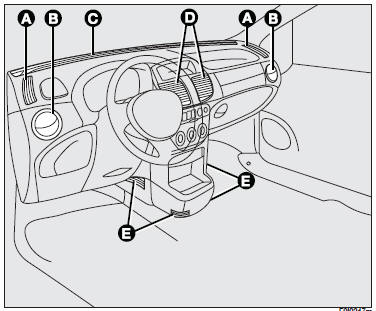 A - Fixed side vents - B - Adjustable side outlets - C - Fixed upper vent - D - Fixed central vent - E - Lower vents
Version with central tunnel unit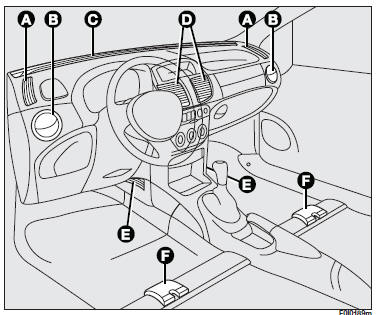 A - Fixed side vents - B - Adjustable side outlets - C - Fixed upper vent - D - Fixed central vent - E - Lower vents - F - Lower vents for rear seats
See also:
Activation
The sensors are automatically activated when the reverse gear is engaged. The sound produced by the acoustic alarm becomes louder when the distance between the car and the obstacle decreases. ...
Replacement Tires
The tires on your new vehicle provide a balance of many characteristics. They should be inspected regularly for wear and correct cold tire inflation pressure. The manufacturer strongly recommends ...
Adjusting the headlight beam
Proper adjustment of the headlight beams is of vital importance for your safety and comfort and also for the other road users. It is also a specific regulation of the road traffic code. To ensur ...