Version with central dashboard unit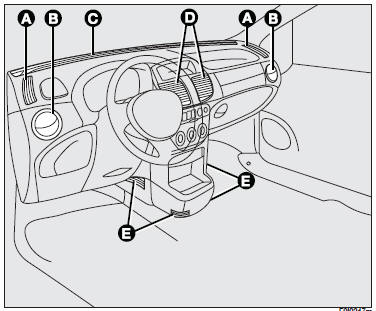 A - Fixed side vents - B - Adjustable side outlets - C - Fixed upper vent - D - Fixed central vent - E - Lower vents
Version with central tunnel unit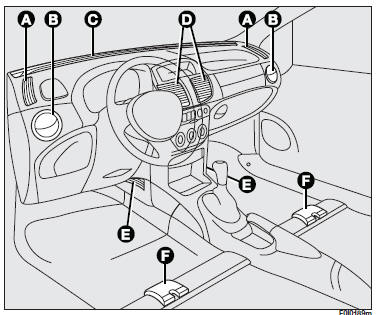 A - Fixed side vents - B - Adjustable side outlets - C - Fixed upper vent - D - Fixed central vent - E - Lower vents - F - Lower vents for rear seats
See also:
Front window bag
They are УcurtainФ cushions located behind the side coverings of the roof and covered by proper finishings such to allow the cushion unfolding downwards; this solution, studied for the head prot ...
Controls
HAZARD LIGHTS fig. 92 They turn on by pressing switch A, regardless of the position of the ignition key. When the lights are on, the switch and the instrument panel warning light will flash. Pr ...
Engine
GENERAL FEATURES (*) For specific markets where applicable FUEL SUPPLY/IGNITION Petrol versions Electronic Multipoint sequential phased injection integrated with ignition, return less syst ...