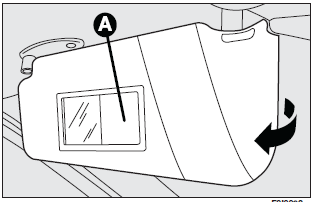 They are located at the sides of the driving mirror. They can be adjusted forwards and sidewards (this last adjustment is not possible on versions fitted with Front window bag).
A courtesy mirror is applied to the back of the passenger's side sun visor. On some versions, the driver's sun visor is fitted on the back with a courtesy mirror: Lift the lid (A) to use the mirror.
See also:
To Deactivate
A soft tap on the brake pedal, pushing the CANC button, or normal brake pressure while slowing the vehicle will deactivate Electronic Speed Control without erasing the set speed memory. Pressing t ...
Installing the tow hook
The towing device should be fastened to the body by specialised personnel according to any additional and/or integrative information supplied by the Manufacturer of the device. The towing device ...
Low battery charge
(red) Turning the ignition key to MAR the warning light turns on, but it should go out as soon as the engine is started (with the engine running at idle speed a brief delay in going out is allo ...