IMPORTANT When topping up take care not to confuse the various types of fluids: they are all incompatible with one another and could seriously damage the car.
IMPORTANT Never smoke while working in the engine compartment: gas and inflammable vapours may be present, with the risk of fire.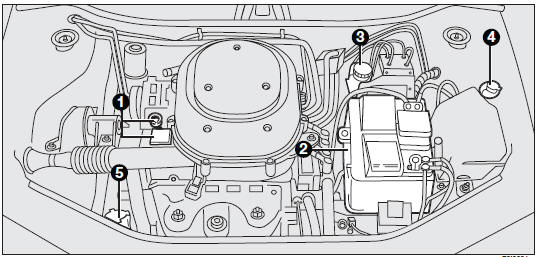 1.28V version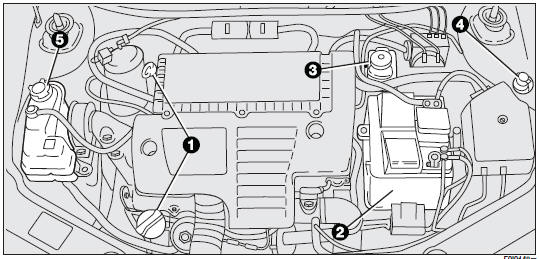 1.3 Multijet version
1 Engine oil
2 Battery
3 Brake fluid
4 Windscreen/rear window/headlight washer fluid
5 Engine coolant
See also:
Model plate
The plate is to be found on the front crossmember of the engine compartment and bears the following identification data: A - Manufacturer' name. B - Homologation number. C - Vehicle type code. ...
How to start diesel versions
1) Ensure that the handbrake is up. 2) Put the gear lever into neutral. 3) Turn the ignition key to MAR. Instrument panel warning lightswill come on. 4) Wait for warning lights to turn off. 5 ...
Steering
Volante ad assorbimento di energia. Energy-absorbing jointed steering wheel. Permanently lubricated rack and pinion. Permanent lubrication joints. Minimum steering circle: 10.5 meters (average bet ...