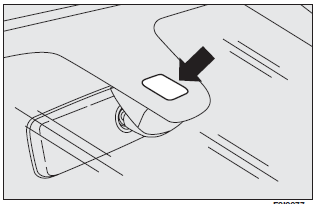 The rain sensor is behind the driving mirror in contact with the windscreen and has the purpose of automatically adjust, during the intermittent operation, the frequency of the windscreen wiper strokes as to the rain intensity.
The sensor has a range of adjustment that gradually varies between wiper stationary (no wiping) when the windscreen is dry, to wiper at first continuous speed (continuous slow) with heavy rain.
See also:
Cleaning Headlights
Your vehicle has plastic headlights that are lighter and less susceptible to stone breakage than glass headlights. Plastic is not as scratch resistant as glass and, therefore, different lens cleani ...
To open the bonnet
Proceed as follows: ❒ pull lever (A) in the direction of the arrow; ❒ press lever (B) as shown by the arrow; ❒ open the bonnet and release the rod (C) from its clip at th ...
Rear window wash/wipe function
This device can only work when the ignition key is at MAR. To switch the rear window wiper on, turn the knurled ring from O to . To wash the window push the stalk towards the dashboard. On cert ...