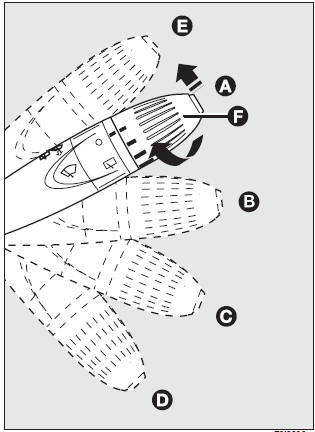 Move the right-hand stalk downwards by one position.
The activation of the rain sensor is signalled by a control acquisition "stroke".
IMPORTANT Keep clean the glass in the sensor area.
Turning the knurled ring (F) it is possible to increase the sensitivity of the rain sensor, obtaining a quicker change from stationary (no wiping) when the windscreen is dry, to first continuous speed (continuous, slow). The increase of the sensitivity of the rain sensor is signalled by a control and acquisition "cycle". Operating the windscreen washer with the rain sensor activated the normal washing cycle is performed at the end of which the rain sensor resumes its normal automatic function.
See also:
Air Bag System Components
Your vehicle may be equipped with the following air bag system components: • Occupant Restraint Controller (ORC) • Air Bag Warning Light • Steering Wheel and Column • Instrument Panel • Supple ...
Using the manual gearbox
To engage the gears, press the clutch pedal fully and shift the gear lever into one of the required positions (the diagram is shown on the knob). IMPORTANT The car can only be put into reverse ge ...
Additional braking light (third stop)
To change the bulb, proceed as follows: ❒ open the tailgate and loosen screws (A); ❒ release the clip (B) and open the bulb holder, the remove the bulb (C) to be replaced (clippe ...