The shift lever position display (located in the instrument panel cluster) indicates the transmission gear range. You must press the brake pedal to move the shift lever out of the PARK position (Refer to "Brake/Transmission Shift Interlock System" in this section). To drive, move the shift lever from PARK or NEUTRAL to the DRIVE position.
The electronically-controlled transmission provides a precise shift schedule. The transmission electronics are self-calibrating; therefore, the first few shifts on a new vehicle may be somewhat abrupt. This is a normal condition, and precision shifts will develop within a few hundred miles (kilometers).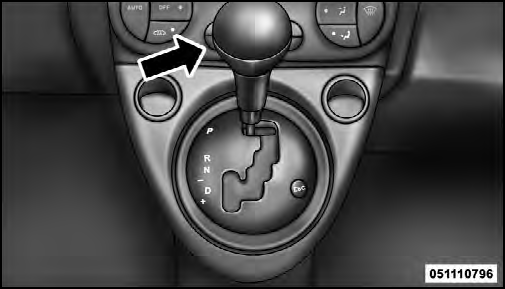 Shift Lever
Shifting from DRIVE to PARK or REVERSE should be done only after the accelerator pedal is released and the vehicle is stopped. Be sure to keep your foot on the brake pedal when moving the shift lever between these gears.
The transmission shift lever has only PARK, REVERSE, NEUTRAL, and DRIVE shift positions. Manual shifts can be made using the AutoStick shift control (refer to "AutoStick " in "Starting and Operating" for further information). Moving the shift lever forward or rearward (–/ +) while in the AutoStick position (beside the DRIVE position) will manually select the transmission gear, and will display the current gear in the instrument cluster as 6, 5, 4, 3, 2, 1.
See also:
Engine oil consumption
Max engine oil consumption is usually 400 grams every 1000 km. During the beginning of the vehicle's life the engine is be tuned in. Engine oil consumption can only be considered stabilized after t ...
Accessories purchased by the owner
If after buying the car, you decide to install electrical accessories that require a permanent electric supply (alarm, satellite antitheft system, etc.) or accessories that in any case burden the ...
Transporting Passengers
NEVER TRANSPORT PASSENGERS IN THE CARGO AREA. WARNING! • Do not leave children or animals inside parked vehicles in hot weather. Interior heat build-up may cause serious injury or death. • It is ...