The shift lever position display (located in the instrument panel cluster) indicates the transmission gear range. You must press the brake pedal to move the shift lever out of the PARK position (Refer to "Brake/Transmission Shift Interlock System" in this section). To drive, move the shift lever from PARK or NEUTRAL to the DRIVE position.
The electronically-controlled transmission provides a precise shift schedule. The transmission electronics are self-calibrating; therefore, the first few shifts on a new vehicle may be somewhat abrupt. This is a normal condition, and precision shifts will develop within a few hundred miles (kilometers).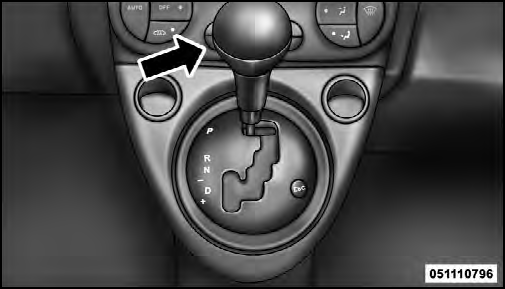 Shift Lever
Shifting from DRIVE to PARK or REVERSE should be done only after the accelerator pedal is released and the vehicle is stopped. Be sure to keep your foot on the brake pedal when moving the shift lever between these gears.
The transmission shift lever has only PARK, REVERSE, NEUTRAL, and DRIVE shift positions. Manual shifts can be made using the AutoStick shift control (refer to "AutoStick " in "Starting and Operating" for further information). Moving the shift lever forward or rearward (–/ +) while in the AutoStick position (beside the DRIVE position) will manually select the transmission gear, and will display the current gear in the instrument cluster as 6, 5, 4, 3, 2, 1.
See also:
Jacking the vehicle
WITH THE JACK See "If a tyre is punctured", in this section. The jack should only be used to change a wheel on the vehicle for which it was designed. It should not be put to other uses or employe ...
(D) Drive Vehicle
Immediately after injecting sealant and inflating the tire, drive the vehicle 5 miles (8 km) or 10 minutes to ensure distribution of the TIREFIT Sealant within the tire. Do not exceed 55 mph (88 k ...
Provisions for the processing of a vehicle at the end of its life-cycle
For years now Fiat has been developing its global commitment towards the safeguarding and protection of the Environment through the continuous improvement of its production processes and the makin ...