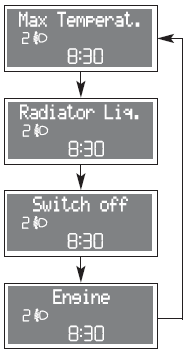 Turning the ignition key to MAR the warning light on the dial turns on, but it should go off after few seconds.
The warning light turns on (on certain versions together with the message on the display) when the engine is overheated. If the warning light comes on when driving, proceed as follows:
❒ Normal driving conditions: stop the car, switch off the engine and check whether the water level in the reservoir is not below the MIN mark. Otherwise wait for few seconds to allow engine cooling, then open slowly and carefully the cap, top up coolant and check whether its level is falling between MIN and MAX marks in the reservoir. Check visually any leak. If when restarting the warning light comes on again, contact a Fiat Dealership;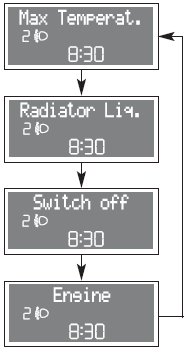 ❒ Car heavy duty (e.g.: towing trailer uphill or fully laden car): decrease speed, if the warning light stays on, stop the car. Wait for 2 or 3 minutes leaving the engine on and slightly accelerated to further activate the circulation of the coolant fluid, then switch the engine off. Check proper coolant level as described previously.
IMPORTANT Under severe use of the car, keep the engine on and slightly accelerated for few minutes before switching it off.
See also:
Service schedule
The scheduled service must be carried out every 20,000 km. (*) Or every 4 years for very demanding use (cold climate, idling in city traffic, dusty areas). Or every 5 years, regardless from th ...
ASR system
It's a function of ESP system and controls the vehicle drive and cuts in automatically every time one or both driving wheels slip. In slipping conditions, two different control systems are activate ...
Anti-Lock Brake System (ABS)
This system aids the driver in maintaining vehicle control under adverse braking conditions. The system controls hydraulic brake pressure to prevent wheel lockup and help avoid skidding on slipper ...