Check the pressure of each tyre, including the spare, every two weeks and before long journeys.
The pressure must be checked when the tyre is rested and cold.
It is normal for the pressure to rise when you are driving. If you have to check or restore the pressure when the tyres are warm, remember that the pressure value must be 0.3 bar above the specified value.
See "Wheels" in "Technical specifications" for the correct tyre inflation pressure.

Tyre pressure must be correct to ensure good road holding.
Incorrect pressure causes abnormal tyre wear fig. 22:
A - Correct pressure: tyre wears evenly
B - Under inflated tyre: shoulder tread wear
C - Over inflated tyre: centre tread wear.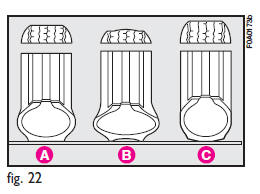 If the pressure is too low the tyre overheats and this can cause it serious damage.
Tyres must be replaced when the tread wears down to 1.6 mm. In any case, comply with the laws in the country where the vehicle is being driven.
See also:
TIREFIT Kit
Small punctures up to 1/4 in (6 mm) in the tire tread can be sealed with TIREFIT. Foreign objects (e.g., screws or nails) should not be removed from the tire. TIREFIT can be used in outside temper ...
Control buttons
To use the information the "Digital display", "Multifunction display" and "Reconfigurable multifunction display" are able to give (with the ignition key at MAR), you should firstly familiarise w ...
Vehicle Storage
If you are leaving your vehicle dormant for more than 21 days, you may want to take these steps to protect your battery. • Disconnect the negative cable from the battery. • Anytime you store your ...