When engaged, the Electronic Speed Control takes over accelerator operations at speeds greater than 25 mph (40 km/h).
The Electronic Speed Control buttons are located on the right side of the steering wheel.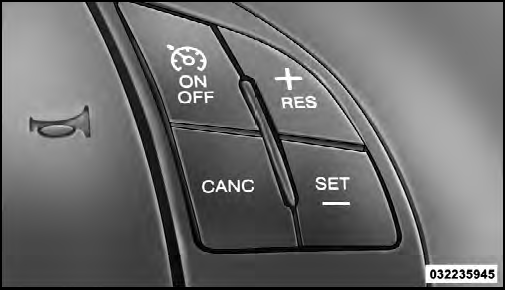 Speed Control Buttons

NOTE: In order to ensure proper operation, the Electronic Speed Control system has been designed to shut down if multiple Speed Control functions are operated at the same time. If this occurs, the Electronic Speed Control system can be reactivated by pushing the Electronic Speed Control ON/OFF button and resetting the desired vehicle set speed.
See also:
General
The fuse is a protective device for the electric system: it comes into action (i.e. it cuts off) mainly due to a fault or improper action on the system. When a device does not work, check the eff ...
Auto-Down — If Equipped
The driver's door window switch may have an Auto- Down feature. Press the window switch for approximately one second, release, and the window will go Power Window Switches 2 THINGS TO KNOW BEFORE ...
Containing running costs and pollution
Some suggestions which may help you to keep the running costs of the vehicle down and lower the amount of toxic emissions released into the atmosphere are given below. ...