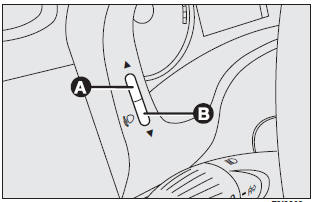 Proper adjustment of the headlight beams is of vital importance for your safety and comfort and also for the other road users. It is also a specific regulation of the road traffic code. To ensure you and other drivers have the best visibility conditions when travelling with the headlights on, the headlights must be set properly.
Contact Fiat Dealership to have the headlights properly adjusted. Check beam aiming every time the load carried changes.
See also:
Seat Bel
Inspect the belt system periodically, checking for cuts, frays, and loose parts. Damaged parts must be replaced immediately. Do not disassemble or modify the system. Front seat belt assemblies must ...
Technical specifications
VEHICLE IDENTIFICATION DATA CHASSIS MARKING fig. 1 It is printed on the passenger compartment floor, near the right-hand front seat. It can be reached by lifting the special flap in the carpeting an ...
Diesel fuel filter sensor failure
The warning light on the dial comes on (on certain versions together with the message on the display) when dieel fuel filter sensor failure is detected. Contact Fiat Dealership as soon as poss ...