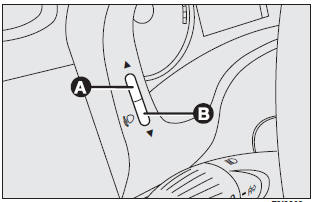 Proper adjustment of the headlight beams is of vital importance for your safety and comfort and also for the other road users. It is also a specific regulation of the road traffic code. To ensure you and other drivers have the best visibility conditions when travelling with the headlights on, the headlights must be set properly.
Contact Fiat Dealership to have the headlights properly adjusted. Check beam aiming every time the load carried changes.
See also:
Tailgate closing
To close, lower the tailgate until the lock clicks. If the boot is not shut properly the warning light ´ comes on together with the message on reconfigurable multifunction display (where prov ...
Sun Shade — If Equipped
For vehicles equipped with either a power sunroof or a fixed glass roof, there is a sun shade that can be open or closed. To open the sun shade press the tab and move the shade to a full open posi ...
Important notes
The vehicle must be fitted with a homologated tow hitch and suitable electrical system for towing a caravan or trailer. Installation must be carried out by skilled personnel who will issue documen ...