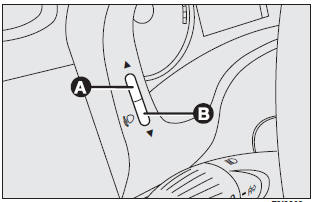 Proper adjustment of the headlight beams is of vital importance for your safety and comfort and also for the other road users. It is also a specific regulation of the road traffic code. To ensure you and other drivers have the best visibility conditions when travelling with the headlights on, the headlights must be set properly.
Contact Fiat Dealership to have the headlights properly adjusted. Check beam aiming every time the load carried changes.
See also:
Cheap running that respects the environment
Environmental protection has been one of the guiding principles in the production of the Fiat Doblò. It is no accident that its pollution control equipment is much more effective than that ...
Quick heating
Proceed as follows: ❒ close all dashboard vents; ❒ turn knob (A) to ; ❒ turn knob (C) to 4 ; ❒ turn knob (D) to . ...
Rain sensor
The rain sensor is behind the driving mirror in contact with the windscreen and has the purpose of automatically adjust, during the intermittent operation, the frequency of the windscreen wiper ...