A fuse is an element for protecting the electrical system. A fuse will trip (i.e. it will blow) in the event of a failure or improper interventions in the electrical system.
If an electrical device is not working, check whether the respective fuse is blown. The conductor A-fig. 40 should be intact. If it is not, replace the fuse with another with the same amperage (same color).
B - Undamaged fuse.
C - Fuse with broken filament.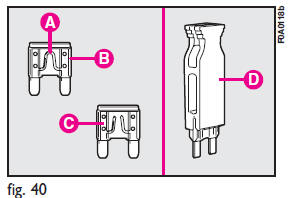 Remove the blown fuse with the tongs provided D, which can be found in the fuse box.

Never replace a broken fuse with anything other than a new fuse. Always use a fuse of the same color.

Never change a fuse with another amperage:
FIRE RISK.

Do not attempt to repair a blown MAXI-FUSE.
Go to a Fiat Dealership.

Before changing a fuse, check the ignition key has been removed and that all the other electric devices have been turned off/disabled.

If the fuse blows again, have the vehicle inspected at a Fiat Dealership.
The fuses in the Fiat Doblò are grouped in two fuse boxes, one located in the dashboard and the other in the engine compartment.
Press in the points shown in fig. 41 to remove the cover and reach the fuses.
Refer to the table on the following pages to identify the fuses.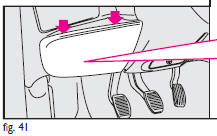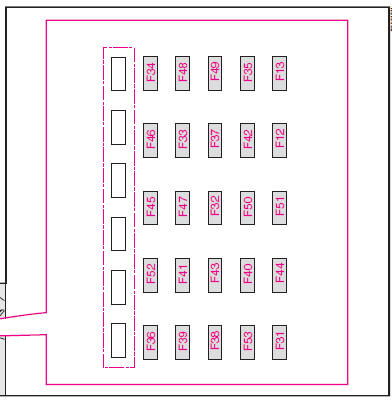 To reach the fuses in the engine compartment fuse box, release the tabs A-fig. 42 and remove the cover B.
Refer to the table on the following pages to identify the fuses.
NOTE: The glow plug fuse (60 A) is built into the pre-cabled section but it is positioned aside the engine compartment fuse box inside the cover shell so it can be friendly reached.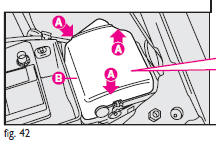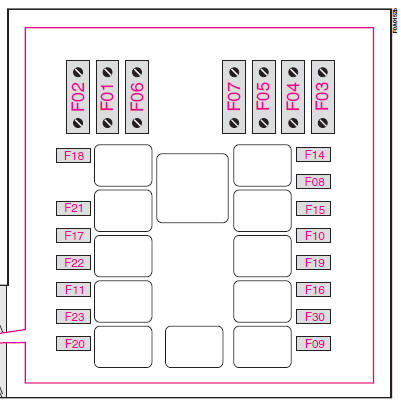 See also:
Warranty Information
See the Warranty Information Booklet, located on the DVD, for the terms and provisions of FIAT Group Automobiles warranties applicable to this vehicle and market. ...
General instructions
Wheel changing and correct use of the jack and spacesaver spare wheel call for some precautions as listed below. IMPORTANT If the vehicle is fitted with УFix & Go (quick tyre repair kit)Ф, see ...
Automatic Dimming Mirror Ч If Equipped
This mirror automatically adjusts for headlight glare from vehicles behind you. You can turn the feature on or off by pressing the button at the base of the mirror.Alight to the left of the button ...