Babies up to 13 kg must be carried facing backwards on a cradle seat, which, supporting the head, does not induce stress on the neck in the event of sharp deceleration.
The cradle is restrained by the vehicle seat belts, as shown in fig. 14 and in turn it must restrain the child with its own belts.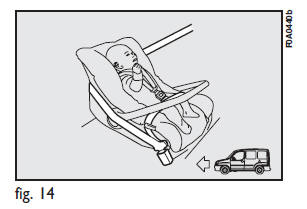 The figure is only an example for mounting. Attain to the instructions for fastening which must be enclosed with the specific child restraining system you are using.
See also:
Containing running costs
Here are some suggestions which may help you to keep the running costs of your car down and lower the amount of toxic emissions released into the atmosphere. ...
Dealer Service
Your authorized dealer has the qualified service personnel, special tools, and equipment to perform all service operations in an expert manner. Service Manuals are available which include detailed ...
Adjusting the headlight beam
Proper adjustment of the headlight beams is of vital importance for your safety and comfort and also for the other road users. It is also a specific regulation of the road traffic code. To ensur ...