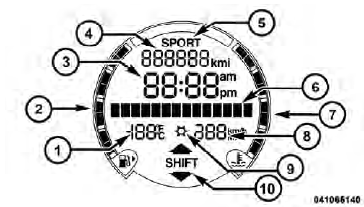 EVIC Display Manual Transmission
1 — Temperature Indicator
6 — Message Display
2 — Fuel Level Gauge
7 — Coolant Temperature Gauge
3 — Clock
8 — Digital Speedometer
4 — Odometer
9 — Ice Warning Indicator
5 — Sport Mode
10 — Gear Shift Indicator (GSI)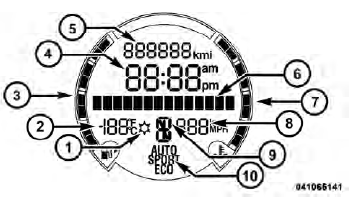 EVIC Display Automatic Transmission
1 — Ice Warning Indicator
6 — Message Display
2 — Temperature Indicator
7 — Coolant Temperature Gauge
3 — Fuel Level Gauge
8 — Digital Speedometer
4 — Clock
9 — Autostick Gear Indicator
5 — Odometer
10 — Auto/Sport/ECO Indicator
See also:
Seat belts not fastened
(red) The warning light on the dial turns on glowing steadily with vehicle stationary and driver's or passenger's seat belt not fastened correctly. The warning light will turn on flashing when, ...
Recirculation Control
When outside air contains smoke, odors, or high humidity, or if rapid cooling is desired, you may wish to recirculate interior air by pressing the RECIRCULATION control button. Recirculation mo ...
Body Lubrication
Locks and all body pivot points, including such items as seat tracks, door hinge pivot points and rollers, liftgate, tailgate, sliding doors and hood hinges, should be lubricated periodically with ...