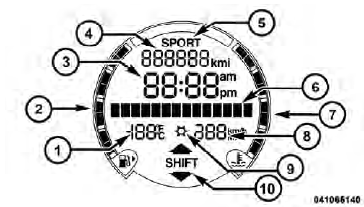 EVIC Display Manual Transmission
1 Ч Temperature Indicator
6 Ч Message Display
2 Ч Fuel Level Gauge
7 Ч Coolant Temperature Gauge
3 Ч Clock
8 Ч Digital Speedometer
4 Ч Odometer
9 Ч Ice Warning Indicator
5 Ч Sport Mode
10 Ч Gear Shift Indicator (GSI)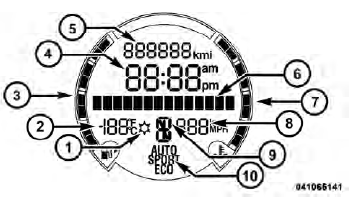 EVIC Display Automatic Transmission
1 Ч Ice Warning Indicator
6 Ч Message Display
2 Ч Temperature Indicator
7 Ч Coolant Temperature Gauge
3 Ч Fuel Level Gauge
8 Ч Digital Speedometer
4 Ч Clock
9 Ч Autostick Gear Indicator
5 Ч Odometer
10 Ч Auto/Sport/ECO Indicator
See also:
Dipped beam headlights
To change the bulb, remove the protective cover (2), release the catch (A) and remove the bulb (B). ...
Instruments
Instrument background and type can change according to versions. ...
8. Generic Warning Light
The Generic Warning Light will illuminate if any of the following conditions occur: Oil Change Request, Engine Oil Pressure Sensor Failure, External Light Failure, Fuel Cut-Off Intervention, Fue ...