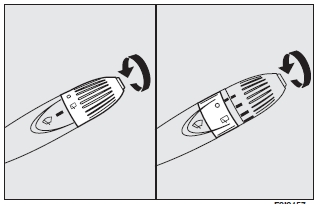 This device can only work when the ignition key is at MAR. To switch the rear window wiper on, turn the knurled ring from O to

. To wash the window push the stalk towards the dashboard. On certain versions the rear window and windscreen wiping strokes are synchronised.
"Smart washing" function
On certain versions, pulling the stalk towards the dashboard, with just one movement it is possible to operate the washer jet and the wiper at the same time; indeed, the latter comes into action automatically if the stalk is pulled for more than half a second. The wiper stops working three strokes after releasing the stalk. On certain versions a further "cleaning stroke", after a few seconds, completes the wiping operation.
See also:
Quick heating
Proceed as follows: ❒ close all dashboard vents; ❒ turn knob (A) to ; ❒ turn knob (C) to 4 ; ❒ turn knob (D) to . ...
How to warm up the engine after is has just started (petrol and diesel versions)
– Begin to move forward slowly letting the engine turn at medium revs. Do not accelerate abruptly. – Do not push the engine to its limit for the first few kilometers. You are recommended to wait u ...
How To Use This Manual
Consult the Table of Contents to determine which section contains the information you desire. Since the specification of your vehicle depends on the items of equipment ordered, certain descriptio ...