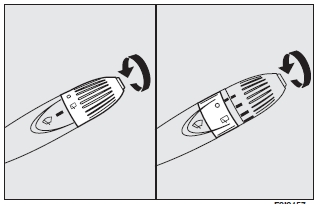 This device can only work when the ignition key is at MAR. To switch the rear window wiper on, turn the knurled ring from O to

. To wash the window push the stalk towards the dashboard. On certain versions the rear window and windscreen wiping strokes are synchronised.
"Smart washing" function
On certain versions, pulling the stalk towards the dashboard, with just one movement it is possible to operate the washer jet and the wiper at the same time; indeed, the latter comes into action automatically if the stalk is pulled for more than half a second. The wiper stops working three strokes after releasing the stalk. On certain versions a further "cleaning stroke", after a few seconds, completes the wiping operation.
See also:
Dipped beams
To change the halogen bulb, proceed as follows: 1) Remove the protection cover Bfig. 18 turning it counterclockwise; 2) Release clip A-fig. 20, remove connector B and remove the bulb C. ...
Weights
(*) If special equipment is fitted (sunroof, tow hitch, etc.) the unladen car weight increases, thus reducing the specified payload. (**) Loads not to be exceeded. The driver is responsible for a ...
Left-hand and right-hand direction indicator
(green - intermittent) (Natural Power versions) The warning light turns on when the direction indicator control lever is moved downwards or, together with the right indicator, when the hazard war ...