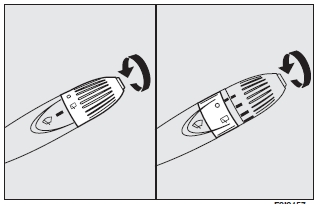 This device can only work when the ignition key is at MAR. To switch the rear window wiper on, turn the knurled ring from O to

. To wash the window push the stalk towards the dashboard. On certain versions the rear window and windscreen wiping strokes are synchronised.
"Smart washing" function
On certain versions, pulling the stalk towards the dashboard, with just one movement it is possible to operate the washer jet and the wiper at the same time; indeed, the latter comes into action automatically if the stalk is pulled for more than half a second. The wiper stops working three strokes after releasing the stalk. On certain versions a further "cleaning stroke", after a few seconds, completes the wiping operation.
See also:
If an exterior light burns out
Alterations or repairs to the electric system not carried out correctly and without taking into account the system specifications may cause failures and the risk of fire. See "If a bulb burns ou ...
Heating/climate control system
Version with central dashboard unit A - Fixed side vents - B - Adjustable side outlets - C - Fixed upper vent - D - Fixed central vent - E - Lower vents Version with central tunnel unit A - F ...
Brake System
In order to assure brake system performance, all brake system components should be inspected periodically. Refer to the "Maintenance Schedule" for the proper maintenance intervals. WARNING! Ridi ...