Some models are equipped with a driver's side spotter mirror. The spotter mirror allows for a greater range of visibility on the driver's side of the vehicle.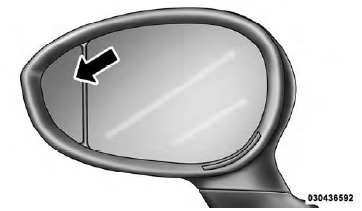 Spotter Mirror
See also:
Recirculation
Move slider (B) to . This function is particularly useful when the outside air is heavily polluted (in a traffic jam, tunnel, etc.). However, it is better not to use it for long periods, especial ...
Bump starting
Catalyzed vehicles must not be bump started (pushed, towed or coasted down hill) as this could cause fuel to flow into the catalytic exhaust system and damage it beyond repair. Remember that u ...
Initial check
Turning the ignition key to MAR, the multifunction display shows the message "Check active": the diagnostic phase of all the electronic systems on the car has started. This lasts few seconds: if n ...