The scheduled service must be carried out every 20,000 km.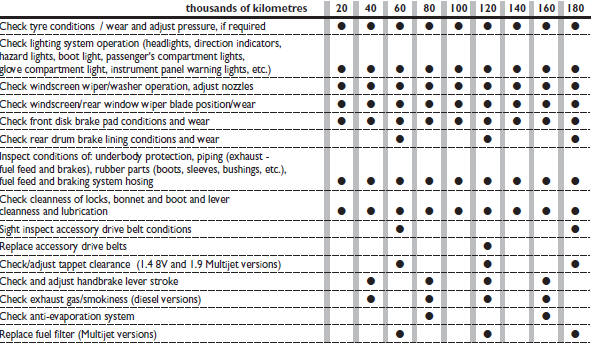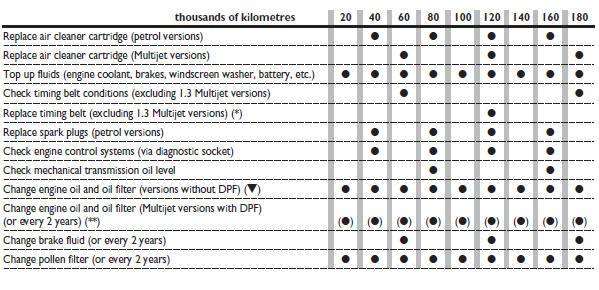 (*) Or every 4 years for very demanding use (cold climate, idling in city traffic, dusty areas).
Or every 5 years, regardless from the distance traveled.

(O) Every 30.000 km or 2 years for Multijet versions

(**) Engine oil and oil filter shall be changed according to their actual exhaust conditions, indicated by warning light/message (where provided) on the instrument panel (see section "Warning lights and messages").
See also:
Fuel Filler Cap (Gas Cap)
The gas cap is located on the passenger side of the vehicle. If the gas cap is lost or damaged, be sure the replacement cap is the correct one for this vehicle. Fuel Filler Cap CAUTION! • Dam ...
Interiors
From time to time check that water has not collected under the mats (from dripping shoes, umbrellas etc.) which could cause the steel to rust. Never use inflammable products such as petroleum ethe ...
To Set A Desired Speed
Turn the Electronic Speed Control ON. When the vehicle has reached the desired speed, press the SET (-) button and release. Release the accelerator and the vehicle will operate at the selected spe ...