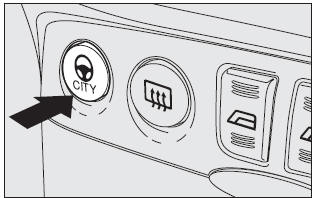 The electric power steering only works when the ignition key is at MAR and the engine is running. A new electrically controlled power steering system called "Dualdrive" is fitted on the Fiat Punto that can be customised by the driver according to the driving conditions.
See also:
Operating Tips
Window Fogging Windows will fog on the inside when the humidity inside the vehicle is high. This often occurs in mild or cool temperatures when it's rainy or humid. In most cases, turning the air ...
Important notes
The vehicle must be fitted with a homologated tow hitch and suitable electrical system for towing a caravan or trailer. Installation must be carried out by skilled personnel who will issue documen ...
Jacking the vehicle
WITH THE JACK See "If a tyre is punctured", in this section. The jack should only be used to change a wheel on the vehicle for which it was designed. It should not be put to other uses or employe ...