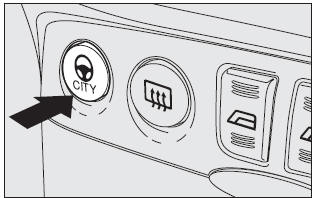 The electric power steering only works when the ignition key is at MAR and the engine is running. A new electrically controlled power steering system called "Dualdrive" is fitted on the Fiat Punto that can be customised by the driver according to the driving conditions.
See also:
Functions And Adjustments
Turning The Car Radio On The car radio comes on when the (ON/OFF) button is pressed briefly. When the car radio is turned on and the on volume limit is on, the volume is limited to a setting of ...
Without The Ignition Key
Special care must be taken when the vehicle is towed with the ignition in the OFF/LOCK position. A dolly should be used under the front wheels if the rear wheels are raised. Proper towing equipmen ...
26. Odometer / Trip Odometer / Electronic VehicleInformation Center (EVIC) Display Area
This display indicates the total distance the vehicle has been driven. U.S. Federal regulations require that upon transfer of vehicle ownership, the seller certify to the purchaser the correct mile ...