Switch off the engine, pull up the handbrake and engage a gear (1st gear or reverse, according to whether the vehicle is facing up or downhill) and leave the wheels turned. If the vehicle is left on a steep slope, wedges or a rock should be used to lock the wheels.
Do not leave the ignition key at MAR to prevent draining the battery.
Always remove the key when you leave the vehicle.

Never leave children unsupervised in the vehicle.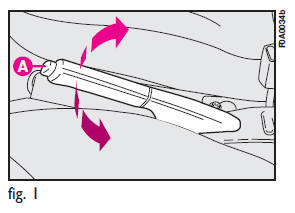 HANDBRAKE
The handbrake lever is located between the two front seats.
Pull the handbrake lever upwards until the vehicle cannot be moved. Four or five clicks are generally enough when the vehicle is on level ground while nine or ten may be required if the vehicle is on a steep slope or laden.
IMPORTANT
If this is not the case, take the vehicle to a Fiat Dealership to have the handbrake adjusted.
Instrument panel warning light
will come on when the handbrake lever is pulled up and the ignition key is at MAR.
To release the handbrake:
1) Slightly lift the handbrake and press release button A-fig.1.
2) Keep the button pressed in and lower the lever. Warning light
will go out.
3) Press the brake pedal when carrying out this operation to prevent the vehicle moving accidentally.
See also:
Rain sensor
The rain sensor is behind the driving mirror in contact with the windscreen and has the purpose of automatically adjust, during the intermittent operation, the frequency of the windscreen wiper ...
Diesel engines
Use diesel fuel for motor vehicles complying with European specifications EN590 only. The use of other products or mixtures may damage the engine beyond repair and invalidate the warranty. If th ...
"Follow me home" device
This function allows the illumination of the space in front of the car. Activation With the ignition key at STOP or removed, pull the left-hand stalk towards the steering wheel and operate it wi ...