Switch off the engine, pull up the handbrake and engage a gear (1st gear or reverse, according to whether the vehicle is facing up or downhill) and leave the wheels turned. If the vehicle is left on a steep slope, wedges or a rock should be used to lock the wheels.
Do not leave the ignition key at MAR to prevent draining the battery.
Always remove the key when you leave the vehicle.

Never leave children unsupervised in the vehicle.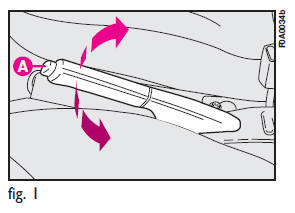 HANDBRAKE
The handbrake lever is located between the two front seats.
Pull the handbrake lever upwards until the vehicle cannot be moved. Four or five clicks are generally enough when the vehicle is on level ground while nine or ten may be required if the vehicle is on a steep slope or laden.
IMPORTANT
If this is not the case, take the vehicle to a Fiat Dealership to have the handbrake adjusted.
Instrument panel warning light
will come on when the handbrake lever is pulled up and the ignition key is at MAR.
To release the handbrake:
1) Slightly lift the handbrake and press release button A-fig.1.
2) Keep the button pressed in and lower the lever. Warning light
will go out.
3) Press the brake pedal when carrying out this operation to prevent the vehicle moving accidentally.
See also:
Periodic Safety Checks You Should Make OutsideThe Vehicle
Tires Examine tires for excessive tread wear and uneven wear patterns. Check for stones, nails, glass, or other objects lodged in the tread or sidewall. Inspect the tread for cuts and cracks. Ins ...
Rear window shelf removal
Proceed as follows: ❒ release the upper ends (A) of the two tie-rods by removing the eyelets; ❒ release the shelf eyelets (B) from their recesses (C); ❒ move the shelf to ...
Operating Tips
Window Fogging Windows will fog on the inside when the humidity inside the vehicle is high. This often occurs in mild or cool temperatures when it's rainy or humid. In most cases, turning the air ...