"STANDARD" SCREEN fig. 38
The standard screen shows the following indications:
A - Headlight aiming position display (with dipped beam headlights on).
B - Clock (always displayed, also with key removed and front doors closed).
C - Odometer (km or miles covered).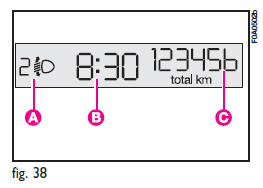 CONTROL BUTTONS fig. 39
A - Clock.
CLOCK fig. 39
To adjust the clock press button A.
The clock will advance by one unit each time the button is pressed. Press the button and hold it down for a few seconds to rapidly advance the time automatically. When the clock draws near to the correct time, release the button and complete the regulation manually.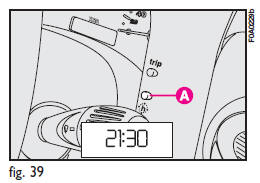 WARNING LIGHT TEST fig. 40
The following warning lights are tested:
– handbrake on/low brake fluid level;
– ABS and EBD system (where provided);
This tests are carried out automatically when turning the ignition key to MAR and during normal operation when a fault is found. At the end of the initial check, the display will show failures, if any (through one or more warning lights) by the wording "LEd Error" flashing for about 10 seconds.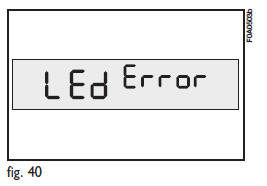 See also:
Advanced Front Air Bag Features
The Advanced Front Air Bag system provides output appropriate to the severity and type of collision as determined by the Occupant Restraint Controller (ORC), which may receive information from the ...
Rear double doors
The double rear doors are fitted with a catch which stops the opening at an angle of approximately 90°. The catch system is designed to ensure the best comfort in use. An accidental knock or gus ...
CD MP3 Player
Introduction This chapter describes the operation of the CD MP3 player. NOTE: Layer-3 audio decoding technology is licensed from Fraunhofer IIS and Thomson multimedia. MP3 Mode In addition to p ...