To further protect your vehicle from theft, it has been fitted with an engine immobilising system (Fiat CODE system) which is automatically activated when the ignition key is removed.
An electronic device, in fact, is fitted in each ignition key grip. The device transmits a radio-frequency signal when the engine is started through a special aerial built into the ignition switch. The modulate signal, which changes each time the engine is started, is the password by means of which the control unit recognises the key and enables to start the engine.
KEYS fig. 2
The following keys are provided with the vehicle:
– two keys A when the vehicle is not equipped with remote control;
– key A and key B when the vehicle is equipped with door lock remote control.
– Key A is the key that is used normally.
It will:
– start the engine;
– lock/unlock front doors;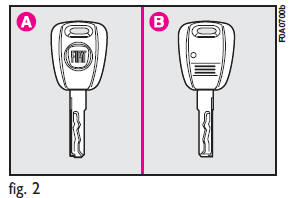 – lock/unlock the rear doors or the tailgate;
– lock/unlock the side doors, Cargo versions only;
– deactivate the passenger's airbag.
The key B, with a built-in remote control, has the same functions as key A in vehicles with door lock remote control.
The CODE card fig. 3 is also supplied with the keys and bears the following:
a - the electronic code to be used for emergency starting (see "Emergency start-up" in section "In an emergency");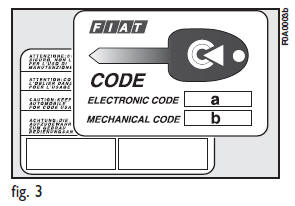 b - the mechanical key code to be given to the Fiat Dealership when ordering duplicate keys.
Keep the CODE card in a safe place.
Make sure you have the electronic code of the CODE card with you at all times in the event you have to perform an emergency start-up.
See also:
ASR system
It's a function of ESP system and controls the vehicle drive and cuts in automatically every time one or both driving wheels slip. In slipping conditions, two different control systems are activate ...
Reactive Head Restraints — Front Seats
The front driver and passenger seats are equipped with Reactive Head Restraints. In the event of a rear impact the Reactive Head Restraints will automatically extend forward minimizing the gap bet ...
Manually deactivating passenger's front air bag (where required)
Should it be absolutely necessary to carry a child on the front seat, the passenger's air bag on the car can be deactivated. Deactivation/reactivation takes place with ignition key at STOP and op ...