The speedometer A-fig. 31 - 32 shows the vehicle speed.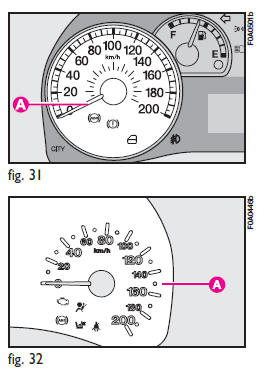 See also:
Warranty Information
See the Warranty Information Booklet, located on the DVD, for the terms and provisions of FIAT Group Automobiles warranties applicable to this vehicle and market. ...
Fuel cut-off switch (FIS)
It is located under the dashboard on the front right-hand door pillar and it comes into operation in the case of an accident to block the supply of fuel thereby stopping the engine. Carefully i ...
ESP system failure
Turning the ignition key to MAR, the warning light on the dial comes on but shall go off after few seconds. If the warning light does not go off or stays on when travelling (on certain versio ...