The speedometer A-fig. 31 - 32 shows the vehicle speed.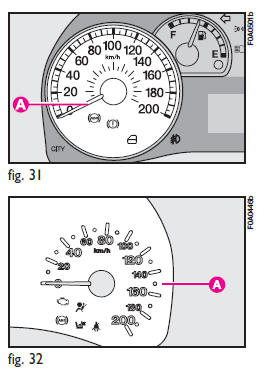 See also:
Important notes
For towing caravans or trailers the car must be fitted with a certified tow hook and an adequate electric system. Installation should be carried out by specialised personnel who release a special ...
ABS
The vehicle can be fitted with an ABS braking system, which prevents the wheels from locking when braking, makes the most of road grip and gives the best control when emergency braking under diffi ...
CD/DVD Disc Maintenance
To keep a CD/DVD in good condition, take the following precautions: 1. Handle the disc by its edge; avoid touching the surface. 2. If the disc is stained, clean the surface with a soft cloth, wipin ...