The speedometer A-fig. 31 - 32 shows the vehicle speed.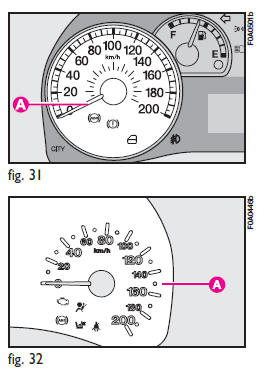 See also:
4. Low Fuel Light
When the fuel level reaches approximately 1.0 gallon (3.8L) this light will turn on, and remain on until fuel is added. ...
Driving mirror
The mirror is fitted with a safety device that causes it to be released in the event of a violent crash. Using the lever (A) it can be moved to two different positions: normal or antiglare. WARN ...
20. Brake Warning Light
This light monitors various brake functions, including brake fluid level and parking brake application. If the Brake Warning Light turns on it may indicate that the parking brake is applied, tha ...