Special colored labels have been attached near or actually on some of the components of your Fiat Doblò. These labels bear symbols that remind you of the precautions to be taken as regards that particular component.
Plate A-fig. 1 summarizing the symbols used can be found under the bonnet.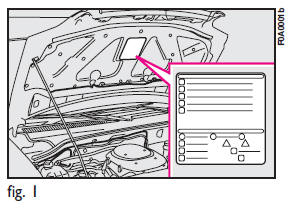 See also:
Turn Signals
Push the multifunction lever upward to signal a right turn or downward to signal a left turn. The corresponding indicator in the instrument cluster will blink to indicate the operation of the turn ...
Headlights
Rotate the end of the multifunction lever upward to the first detent for headlight operation. Headlight Operation NOTE: When the headlights are turned on, the Daytime Running Lights will be ...
Electronic Speed Control
When engaged, the Electronic Speed Control takes over accelerator operations at speeds greater than 25 mph (40 km/h). The Electronic Speed Control buttons are located on the right side of the steer ...