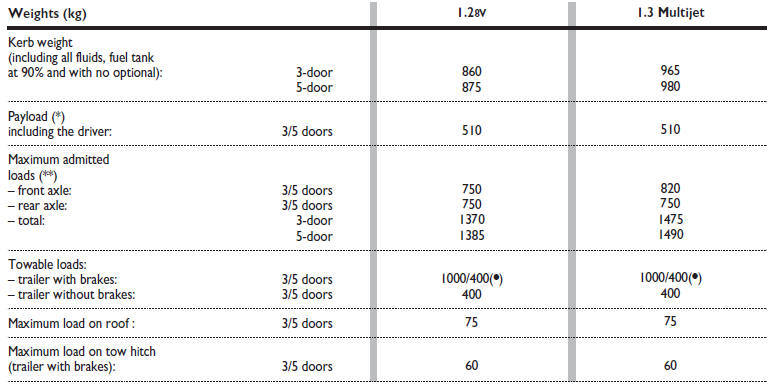 (*) If special equipment is fitted (sunroof, tow hitch, etc.) the unladen car weight increases, thus reducing the specified payload.
(**) Loads not to be exceeded. The driver is responsible for arranging the loads in the boot an/or on the roof so that they comply with these limits.
(●) For specific markets.
See also:
GROUP 0 and 0+
Babies up to 13 kg must be carried facing backwards on a cradle seat, which, supporting the head, does not induce stress on the neck in the event of sharp deceleration. The cradle is restrained b ...
Starting procedure for petrol versions
1) Ensure that the handbrake is up. 2) Put the gear lever into neutral. 3) Press the clutch pedal fully down, without pressing the accelerator. 4) Turn the ignition key to AVV and let it go the mom ...
General
The fuse is a protective device for the electric system: it comes into action (i.e. it cuts off) mainly due to a fault or improper action on the system. When a device does not work, check the eff ...