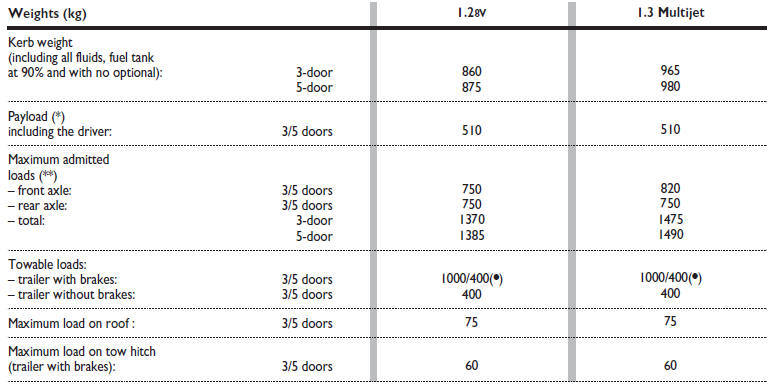 (*) If special equipment is fitted (sunroof, tow hitch, etc.) the unladen car weight increases, thus reducing the specified payload.
(**) Loads not to be exceeded. The driver is responsible for arranging the loads in the boot an/or on the roof so that they comply with these limits.
(●) For specific markets.
See also:
19. Engine Temperature Warning Light
This light warns of an overheated engine condition. The engine coolant temperature indicator will illuminate and a single chime will sound after reaching a set threshold. If the light turns on w ...
Fuel reserve
Turning the ignition key to MAR, the warning light on the instrument panel shall turn on but it should go off after a few seconds. The warning light turns on (on certain versions together with ...
How to keep the seat belts always in efficient conditions
Observe the following: ❒ Always use the belt with the tape taut and never twisted; make sure that it is free to run without impediments; ❒ After a serious accident, replace the belt ...