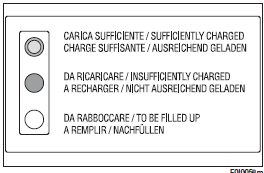 The battery charge may be checked through the indicator (where fitted) set on the battery cover and acting according to the colour the indicator shows. If the battery is not fitted with electrolyte level indicator, the relevant checks must only be carried out by authorised personnel. To check the battery charge, slacken the two fastening screws and open the cover. Check the battery charge and then reclose the cover, take care to prevent pinching and short circuits. Refer to the table below or to the label on the battery (see figure).

WARNING
The liquid in the battery is poisonous and corrosive. Avoid contact with eyes and skin. Do not bring naked flames or possible sources of sparks near to the battery: risk of fire and explosion.
WARNING
Running the battery with low fluid level can damage the battery beyond repair and could also cause its explosion.
See also:
Spark plugs
The cleanness and soundness of the spark plugs are very important for keeping the engine efficient and polluting emissions down. The appearance of the spark plug, if examined by an expert eyes, is ...
Fluids and lubricants
RECOMMENDED PRODUCTS AND THEIR SPECIFICATIONS For diesel engines, in emergency cases where genuine products are not available, lubricants with min. performance ACEA C2 are accepted. If this is th ...
22. Electronic Stability Control (ESC) Activation /Malfunction Indicator Light
The ESC Activation/Malfunction Indicator Light in the instrument cluster will come on for four seconds when the ignition switch is turned to the ON/RUN position. If the ESC Activation/Malfunctio ...