According to versions, power window controls can be set on the dashboard (in central position) fig. 109, or on driver and passenger door panels fig. 109a. They only work with ignition key at MAR.
A - to open/close the front left-hand window;
B - to open/close the front right-hand window.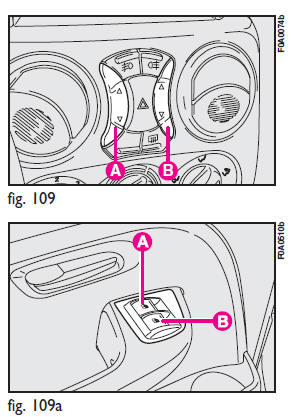 These operations are allowed for two minutes after turning the ignition key from MAR to STOP or removed only if the doors are closed.
On driverТs side there is a button Afig.
109 for automatic operation.
Press the button for longer than one second: the window will stop when it reaches the end of its travel (or until the button is pressed again).

Improper use of the electric windows can be dangerous. Before and during their operation ensure that any passengers are not at risk from the moving glass either by personal objects getting caught in the mechanism or by being injured by it directly. Always remove the ignition key when you get out of the vehicle to prevent the electric windows being operated accidentally and constituting a danger to the people left in the vehicle.
See also:
Diesel fuel filter sensor failure
The warning light on the dial comes on (on certain versions together with the message on the display) when dieel fuel filter sensor failure is detected. Contact Fiat Dealership as soon as poss ...
Emergency start-up
If the Fiat CODE system fails to deactivate engine immobilising system the warning lights Yand U stay on and the engine cannot be started. To start the engine the emergency start-up can be performe ...
Bodywork
PROTECTION FROM ATMOSPHERIC AGENTS The main causes of rust are: Ц atmospheric pollution Ц salt and humidity in the atmosphere (coastal or very hot and humid areas) Ц environmental conditions that ...