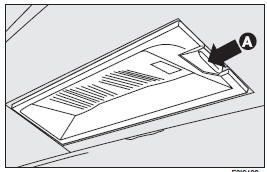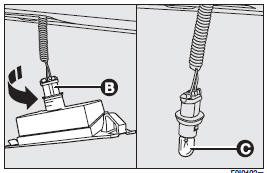 To change the bulb, proceed as follows:
❒ release the tab (A) and remove the cluster;
❒ turn the bulb holder (B) anticlockwise and remove the bulb (C).
See also:
Automatic Transmission – If Equipped
The shift lever must be in the PARK or NEUTRAL position before you can start the engine. Apply the brakes before shifting to any driving gear. NOTE: You must press the brake pedal before shifting ...
Driving style
Starting Do not warm the engine when the vehicle is stationary or at high or low revs: in this way the engine will warm up gradually increasing consumption and emissions. You should drive off slo ...
How to use the gears
Press the clutch fully before shifting the gear stick into one of the positions shown in the diagram in fig. 2 (the diagram is also on the gear lever knob). IMPORTANT Only engage the reverse gear ...