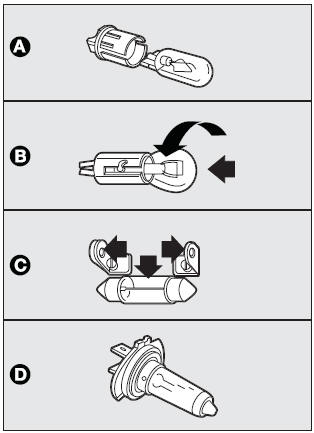 Various types of bulbs are fitted to your car:
(A) All glass bulbs: these are pressed on. Pull to remove.
(B) Bayonet type bulbs: press the bulb, and turn counterclockwise to remove this type of bulb from its holder.
(C) Tubular bulbs: free them from their contacts to remove.
(D) Halogen bulbs: to remove, free it from the clip on its housing.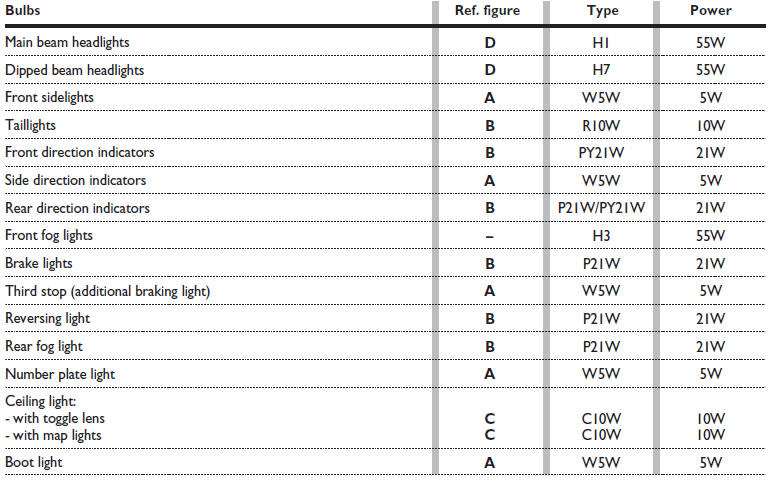 See also:
General
A fuse is an element for protecting the electrical system. A fuse will trip (i.e. it will blow) in the event of a failure or improper interventions in the electrical system. If an electrical devi ...
Looking after the system
During the winter, the climate control system must be turned on at least once a month for about ten minutes. Have the system efficiency checked before the summer at a Fiat Dealership. The system ...
Cylinder replacement procedure
To replace the cylinder proceed as follows fig. 16h: – disconnect connection A; turn counter-clockwise the cylinder to replace and raise it; fit the new cylinder and turn it clockwise; connect conn ...