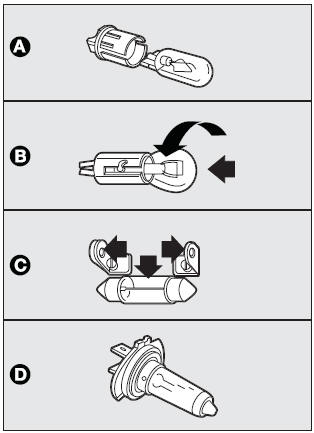 Various types of bulbs are fitted to your car:
(A) All glass bulbs: these are pressed on. Pull to remove.
(B) Bayonet type bulbs: press the bulb, and turn counterclockwise to remove this type of bulb from its holder.
(C) Tubular bulbs: free them from their contacts to remove.
(D) Halogen bulbs: to remove, free it from the clip on its housing.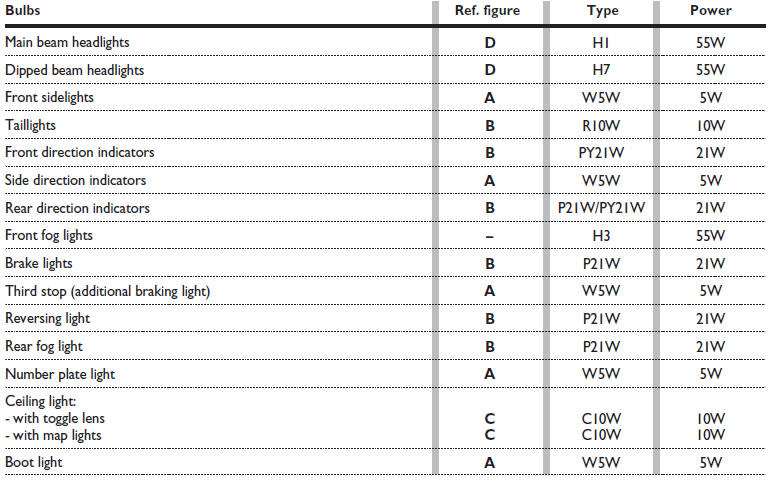 See also:
Main beam headlights
To change the bulb, remove the protective cover (1), release the catch (A) and remove the bulb (B). ...
General instructions
– When a light is not working, check that it has not fused before changing the bulb. – For the location of the fuses, refer to "If a fuse blows" in this chapter. – Before replacing a bulb that doe ...
Power Mirrors
The power mirror controls are located on the driver's door trim panel. Power Mirror Switches The power mirror controls consist of a mirror select switch and a four-way mirror control switch. To ...