Seat belt without reel mechanism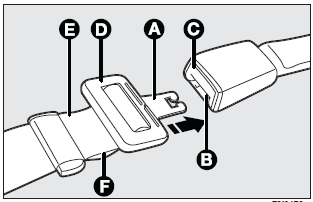 To fasten the seat belt: insert the tongue (A) into the buckle (B), until you hear it click.
To unfasten the seat belt: press button (C).
To adjust the belt: slide the webbing in adjuster (D). Pull length (E) to tighten the belt and length (F) to loosen it.
IMPORTANT The belt is adjusted properly when it fits closely across the hips.
Seat belt with three anchor points and reel mechanism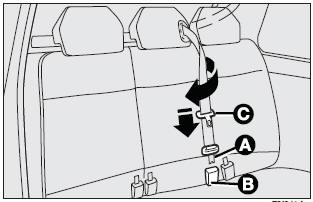 The seat belt has two webbings and a double buckle.
To fasten the seat belt: pull the webbing from your reel gently. Slide the webbing carefully through the retainer by the side of the head restraint without twisting it. Then fasten tongue (A) in buckle (B) (grey with a black button) making the two yellow spot references coincide (one on the tongue and one on the buckle).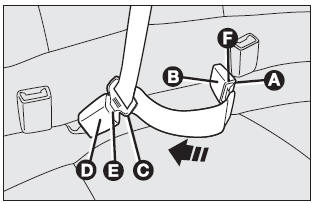 Slide out more webbing and insert tongue (C) in buckle (D) (grey with red button).
To unfasten the seat belt: press button (E) and lead the webbing to buckle (B). Then press button (F) (black).
See also:
Lap/Shoulder Belts
All the seating positions in your vehicle are equipped with combination lap/shoulder belts. The belt webbing retractor is designed to lock during very sudden stops or accidents. This feature allo ...
Wind Buffeting
Wind buffeting can be described as the perception of pressure on the ears or a helicopter-type sound in the ears. Your vehicle may exhibit wind buffeting with the windows down, or the sunroof (if ...
Fuel cut-off switch (FIS)
It is located under the dashboard on the front right-hand door pillar and it comes into operation in the case of an accident to block the supply of fuel thereby stopping the engine. Carefully i ...