Seat belt without reel mechanism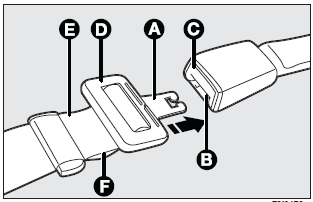 To fasten the seat belt: insert the tongue (A) into the buckle (B), until you hear it click.
To unfasten the seat belt: press button (C).
To adjust the belt: slide the webbing in adjuster (D). Pull length (E) to tighten the belt and length (F) to loosen it.
IMPORTANT The belt is adjusted properly when it fits closely across the hips.
Seat belt with three anchor points and reel mechanism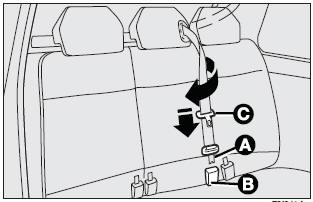 The seat belt has two webbings and a double buckle.
To fasten the seat belt: pull the webbing from your reel gently. Slide the webbing carefully through the retainer by the side of the head restraint without twisting it. Then fasten tongue (A) in buckle (B) (grey with a black button) making the two yellow spot references coincide (one on the tongue and one on the buckle).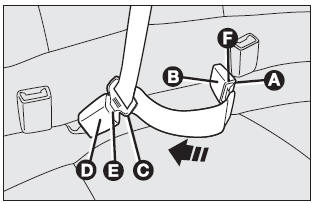 Slide out more webbing and insert tongue (C) in buckle (D) (grey with red button).
To unfasten the seat belt: press button (E) and lead the webbing to buckle (B). Then press button (F) (black).
See also:
"Dualdrive" electric power steering system
The electric power steering only works when the ignition key is at MAR and the engine is running. A new electrically controlled power steering system called "Dualdrive" is fitted on the Fiat Pun ...
Sidelights
Turn the knurled ring to . The warning light on the instrument cluster will come on. ...
Technical specifications
VEHICLE IDENTIFICATION DATA CHASSIS MARKING fig. 1 It is printed on the passenger compartment floor, near the right-hand front seat. It can be reached by lifting the special flap in the carpeting an ...