Manual adjustment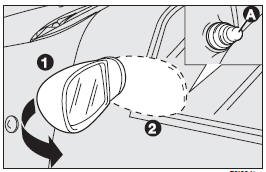 From the passenger compartment, use knob (A) to make the required adjustments. When required (for example when the mirror causes difficulty in narrow spaces) it is possible to fold the mirror moving it from position (1) to position (2).
Electrical adjustment (where provided)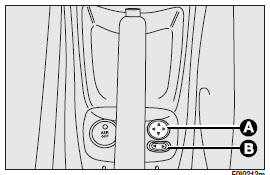 This operation can be only performed with ignition key to MAR. Proceed as follows:
❒ use switch (B) to select the mirror required (left or right);
❒ to adjust the mirror move (A) in the four directions;
IMPORTANT Any adjustment of the mirror position must be carried out only with the car stationary and handbrake engaged.
When driving the mirrors shall always be in position (1).
As the driverТs door mirror is curved, it may slightly alter the perception of distance.
See also:
Jump-Starting Procedure
If your vehicle has a discharged battery, it can be jumpstarted using a set of jumper cables and a battery in another vehicle or by using a portable battery booster pack. Jump-starting can be dang ...
If an accident occurs
Ц It is important to keep calm. Ц If you are not directly involved in the accident, stop at least ten meters away from the accident. Ц If you are on a motorway, do not obstruct the emergency lane ...
Transmission Limp Home Mode
Transmission function is monitored electronically for abnormal conditions. If a condition is detected that could result in transmission damage, Transmission Limp Home Mode is activated. In this mo ...