Manual adjustment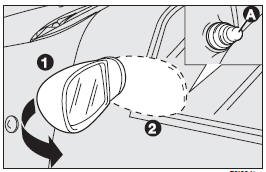 From the passenger compartment, use knob (A) to make the required adjustments. When required (for example when the mirror causes difficulty in narrow spaces) it is possible to fold the mirror moving it from position (1) to position (2).
Electrical adjustment (where provided)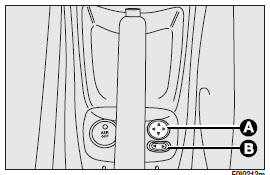 This operation can be only performed with ignition key to MAR. Proceed as follows:
❒ use switch (B) to select the mirror required (left or right);
❒ to adjust the mirror move (A) in the four directions;
IMPORTANT Any adjustment of the mirror position must be carried out only with the car stationary and handbrake engaged.
When driving the mirrors shall always be in position (1).
As the driver's door mirror is curved, it may slightly alter the perception of distance.
See also:
Car inactivity
If the car is to be left inactive for longer than a month, the following precautions should be noted: ❒ park the car in covered, dry and if possible wellventilated premises; ❒ engage ...
Handbrake
The handbrake lever is located between the two front seats. Pull the handbrake lever upwards until the car cannot be moved. Four or five clicks are generally enough when the car is on level ground ...
Headlights
ADJUSTING THE HEADLIGHT BEAM The correct positioning of the headlight beams is very important for the comfort and safety, not only of the person driving the vehicle but also all other road users. ...