Manual adjustment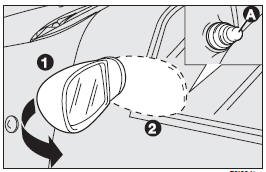 From the passenger compartment, use knob (A) to make the required adjustments. When required (for example when the mirror causes difficulty in narrow spaces) it is possible to fold the mirror moving it from position (1) to position (2).
Electrical adjustment (where provided)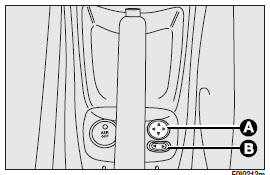 This operation can be only performed with ignition key to MAR. Proceed as follows:
❒ use switch (B) to select the mirror required (left or right);
❒ to adjust the mirror move (A) in the four directions;
IMPORTANT Any adjustment of the mirror position must be carried out only with the car stationary and handbrake engaged.
When driving the mirrors shall always be in position (1).
As the driver's door mirror is curved, it may slightly alter the perception of distance.
See also:
Flash-To-Pass
You can signal another vehicle with your headlights by lightly pulling the multifunction lever toward the steering wheel. This will turn on the high beams until the lever is released. ...
Enhanced Accident Response System
In the event of an impact causing air bag deployment, if the communication network remains intact, and the power remains intact, depending on the nature of the event, the ORC will determine whethe ...
Rear Window Features
Rear Window Defroster The rear window defroster button is located in the center of the instrument panel, below the radio. Press this button to turn on the rear window defroster. An indicator in ...