This function allows the illumination of the space in front of the vehicle.
Turning the function on
With the ignition key at STOP or removed, pull the left-hand stalk towards the steering wheel and operate it within 2 minutes from when the engine is turned off.
At each single movement of the stalk, the staying on of the lights is extended by 30 seconds up to a maximum of 210 seconds; then the lights are switched off automatically.
Each time the lever is operated, the warning light

on the instrument cluster will come on and the display will show the time of activation.
The warning light comes on the first time the lever is operated and will stay on up to automatic function deactivation.
Each operation of the lever will extend lights switching on time.
Turning the function off
Keep the stalk pulled towards the steering wheel for more than 2 seconds.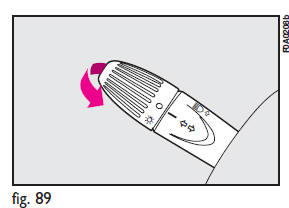 See also:
Hill Start Assist (HSA)
The HSA system is designed to assist the driver when starting a vehicle from a stop on a hill. HSA will maintain the level of brake pressure the driver applied for a short period of time after the ...
Lowering The Power Top
Press the top open button approximately one second for the partially open position. Press the top open button for approximately one second a second time to fully open the convertible top. ...
Headlamps
1. Remove the plastic cap from the back of the headlamp housing. 2. Rotate the bulb counter-clockwise. 3. Remove the bulb and replace as needed. 4. Install the bulb and rotate clockwise to lock in ...