This function allows the illumination of the space in front of the vehicle.
Turning the function on
With the ignition key at STOP or removed, pull the left-hand stalk towards the steering wheel and operate it within 2 minutes from when the engine is turned off.
At each single movement of the stalk, the staying on of the lights is extended by 30 seconds up to a maximum of 210 seconds; then the lights are switched off automatically.
Each time the lever is operated, the warning light

on the instrument cluster will come on and the display will show the time of activation.
The warning light comes on the first time the lever is operated and will stay on up to automatic function deactivation.
Each operation of the lever will extend lights switching on time.
Turning the function off
Keep the stalk pulled towards the steering wheel for more than 2 seconds.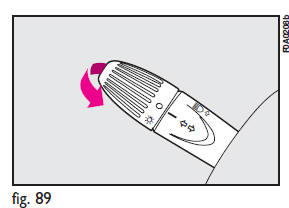 See also:
Inflating procedure
Put on the protection gloves provided together with quick tyre repair kit. – Pull up the handbrake. Loosen tyre inflation valve cap, take out the filler hose A-fig. 16c and screw the ring nut B-fi ...
Climatic comfort
Air distribution Knob D-fig. 72 directs the air inside the passenger compartment according to five levels: conveys the air to the central and side vents directly to the body (face/chest); conve ...
Vehicle storage
The following precautions should be taken if the vehicle will not be used for several months: – Park the vehicle in covered, dry and if possible well-ventilated premises. – Engage a gear. – Make ...