This function allows the illumination of the space in front of the vehicle.
Turning the function on
With the ignition key at STOP or removed, pull the left-hand stalk towards the steering wheel and operate it within 2 minutes from when the engine is turned off.
At each single movement of the stalk, the staying on of the lights is extended by 30 seconds up to a maximum of 210 seconds; then the lights are switched off automatically.
Each time the lever is operated, the warning light

on the instrument cluster will come on and the display will show the time of activation.
The warning light comes on the first time the lever is operated and will stay on up to automatic function deactivation.
Each operation of the lever will extend lights switching on time.
Turning the function off
Keep the stalk pulled towards the steering wheel for more than 2 seconds.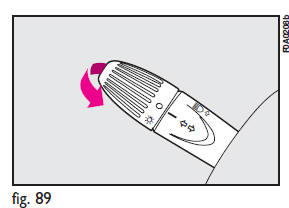 See also:
Required Maintenance Intervals
Refer to the Maintenance Schedules on the following pages for the required maintenance intervals. WARNING! • You can be badly injured working on or around a motor vehicle. D ...
Infants And Child Restraints
Safety experts recommend that children ride rearwardfacing in the vehicle until they are two years old or until they reach either the height or weight limit of their rear facing child safety seat. ...
Tyre pressure
Check the pressure of each tyre, including the spare, every two weeks and before long journeys. The pressure must be checked when the tyre is rested and cold. It is normal for the pressure to rise ...