The key fob contains the Remote Keyless Entry (RKE) transmitter with an integrated key. To use the mechanical key simply press the mechanical key release button.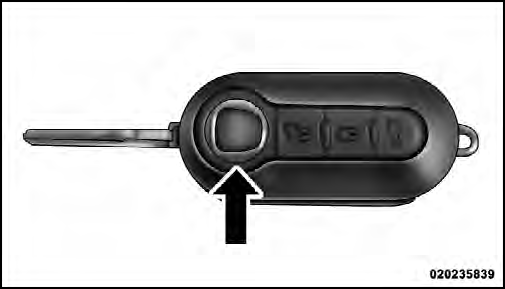 Mechanical Key Release Button
The vehicle is supplied with a code card containing key code numbers to order duplicate keys, and the authorized dealer that sold you your new vehicle has the key code numbers for your vehicle locks. These numbers can be used to order duplicate keys.
See also:
Supplemental Seat-Mounted Side Air Bag (SAB)Inflator Units
The Supplemental Seat-Mounted Side Air Bags (SAB) are designed to activate only in certain side collisions. The ORC determines if a side collision requires the side air bags to inflate, based on ...
E-85 Usage In Non-Flex Fuel Vehicles
Non-FFV vehicles are compatible with gasoline containing 10% Ethanol (E10). Gasoline with higher Ethanol content may void the vehicle's warranty. If a Non-FFV vehicle is inadvertently fueled with E ...
Sun visors
They are located at the sides of the driving mirror. They can be adjusted forwards and sidewards (this last adjustment is not possible on versions fitted with Front window bag). A courtesy mirr ...