Engaging
When the key is to STOP or PARK remove the key and turn the steering wheel until it locks.
Disengaging
Rock the steering wheel slightly as you turn the ignition key to MAR.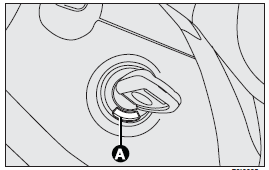 WARNING
Never remove the ignition key while the car is moving. The steering wheel would automatically lock as soon as you try to turn it. This also applies when the car is being towed.
WARNING
It is absolutely forbidden to carry out whatever after-market operation involving steering system or steering column modifications (e.g.: installation of anti-theft device) that could badly affect performance and safety, cause the lapse of warranty and also result in non-compliance of the car with homologation requirements.
See also:
Gasoline/Oxygenate Blends
Some fuel suppliers blend unleaded gasoline with oxygenates such as 10% Ethanol, MTBE, and ETBE. Oxygenates are required in some areas of the country during the winter months to reduce carbon mono ...
Automatic Transmission – If Equipped
The automatic transmission and differential assembly are contained within a single housing. The fluid level in the automatic transmission should be checked whenever the vehicle is serviced. Opera ...
Low battery charge
(red) Turning the ignition key to MAR the warning light turns on, but it should go out as soon as the engine is started (with the engine running at idle speed a brief delay in going out is allo ...