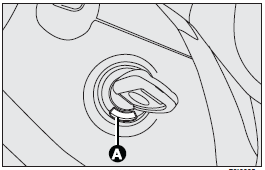 The key can be turned to 4 different positions:
❒ STOP: engine off, key can be removed, steering column locked. Certain electrical devices (e.g.: sound system, power windows, etc.) can work.
❒ MAR: driving position. All electrical devices are powered.
❒ AVV: engine starting.
❒ PARK: engine off, parking lights on, steering column locked. To turn the key to PARK, press button (A).
The ignition switch is fitted with a safety mechanism that, in the event the engine is not started, turns back the ignition key to STOP before epeating the starting operation.
WARNING
If the ignition device is tampered with (e.g.: attempted theft), have it checked over by a Fiat Dealership.
WARNING
When getting out of the car, always remove the key to prevent any occupants from accidentally activating the controls. Remember to engage the handbrake. If the car is parked on uphill slope to engage the first gear. If the car is facing downhill, engage the reverse gear. Never leave unsupervised children in the car.
See also:
If a bulb burns out
Modifications or repairs to the electrical system carried out incorrectly and without bearing the features of the system in mind can cause malfunctions with the risk of fire. You should have th ...
Rain sensor
The rain sensor is behind the driving mirror in contact with the windscreen and has the purpose of automatically adjust, during the intermittent operation, the frequency of the windscreen wiper ...
Passenger seat compliance with regulations on childТs seat use
Fiat Punto complies with the new Directive 2000/3/EC regulating childТs seat assembling on the different car seats according to the following tables: Front and rear seat (3 and 5-door versions) ...