This system offers a full complement of manual override features.

NOTE: Each of these features operates independently from each other. If any feature is controlled manually, temperature control will continue to operate automatically.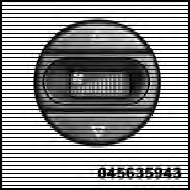 Blower Control
There are 12 fixed blower speeds. Use the blower control up or down buttons to regulate the amount of air forced through the system in any mode you select. The blower speed increases as you press or hold the blower control up button and decreases when you press or hold the blower control down button.
The blower fan speed can be set to any fixed speed by pressing the blower control up or down buttons. The fan will now operate at a fixed speed until additional speeds are selected. This allows the front occupants to control the volume of air circulated in the vehicle and cancel the AUTO mode.
The operator can also select the direction of the airflow by selecting one of the following positions.
See also:
Customer Assistance For The Hearing Or SpeechImpaired (TDD/TTY)
To assist customers who have hearing difficulties, the manufacturer has installed special TDD (Telecommunication Devices for the Deaf) equipment at its customer center. Any hearing or speech impai ...
Installation of electric/electronic devices
Electric/electronic devices installed after buying the car or in aftermarket shall bear the and marking: Fiat Auto S.p.A. authorizes the installation of transceivers provided that installation ...
Tailgate closing
To close, lower the tailgate until the lock clicks. If the boot is not shut properly the warning light ´ comes on together with the message on reconfigurable multifunction display (where prov ...