This system offers a full complement of manual override features.

NOTE: Each of these features operates independently from each other. If any feature is controlled manually, temperature control will continue to operate automatically.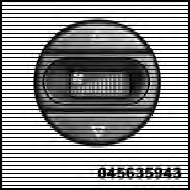 Blower Control
There are 12 fixed blower speeds. Use the blower control up or down buttons to regulate the amount of air forced through the system in any mode you select. The blower speed increases as you press or hold the blower control up button and decreases when you press or hold the blower control down button.
The blower fan speed can be set to any fixed speed by pressing the blower control up or down buttons. The fan will now operate at a fixed speed until additional speeds are selected. This allows the front occupants to control the volume of air circulated in the vehicle and cancel the AUTO mode.
The operator can also select the direction of the airflow by selecting one of the following positions.
See also:
Engine marking
Engine marking is stamped on the crankcase on gearbox side and includes the model and the chassis number. ...
Operating Tips
Window Fogging Windows will fog on the inside when the humidity inside the vehicle is high. This often occurs in mild or cool temperatures when itТs rainy or humid. In most cases, turning the air ...
MP3 File Reading
Track Skips While Playing Mp3 Files The CD is scratched or dirty. The Duration Of The Mp3 Tracks Is Not Correctly Displayed. In some cases (due to the recording mode) the duration of the MP3 tracks ...