A tow hitch is provided with the vehicle.
To fasten the tow hitch:
1) Remove the tow ring from the tool bag.
2) Remove the flap fig. 46 on the bumper levering with a screwdriver in the point shown by the arrow.
3) Fasten the hitch A-fig.46 on the threaded pin.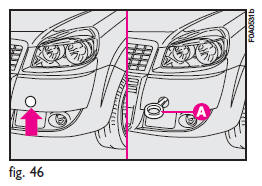 B-fig. 47 - Rear ring for towing another vehicle.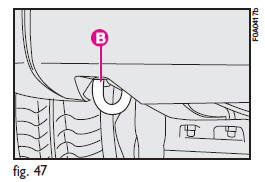 When towing the vehicle, you must comply with the specific traffic regulations regarding the tow hitch and how to tow on the road.

Before starting to tow, turn the ignition key to MAR and then to STOP.
Do not remove the key. If the key is removed, the steering lock engages automatically which prevents the wheels being turned.

While the vehicle is being towed with the engine off, remember that the brake pedal and steering will require more effort as you no longer have the benefit of the power brakes and power steering.
Do not use flexible cables to tow. Avoid jerking. Whilst towing, ensure that the coupling to the vehicle does not damage the surrounding components.
See also:
15. Tire Pressure Monitoring Telltale Light
Each tire, including the spare (if provided), should be checked monthly when cold and inflated to the inflation pressure recommended by the vehicle manufacturer on the vehicle placard or tire in ...
Partitions
Fixed panel partition Certain Fiat Doblò Cargo paneled versions fit a fully paneled partition. Fixed partition with window Certain Fiat Doblò Cargo paneled versions fit a fixed panel ...
Handbrake
The handbrake lever is located between the two front seats. Pull the handbrake lever upwards until the car cannot be moved. Four or five clicks are generally enough when the car is on level ground ...