Only make adjustments when the vehicle is stationary.
Moving the seat backwards or forwards
Lift the lever A-fig. 50 and push the seat forwards or backwards. You are in the correct position for driving when your hands are resting on the steering wheel rim and your arms are slightly bent.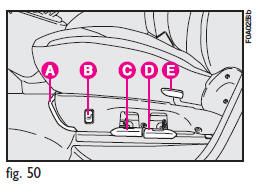 Once you have released the lever, check that the seat is firmly locked in the runners by trying to move it back and forth. Failure to lock the seat in place could result in the seat moving suddenly and dangerously.
Adjusting the reclining seat back
Lift lever E-fig. 50.
Driver's seat with armrest and adjustable lumbar support fig. 51
The armrest can be lifted or lowered F.
The lumbar support can be adjusted to better support you back. Turn knob G to adjust.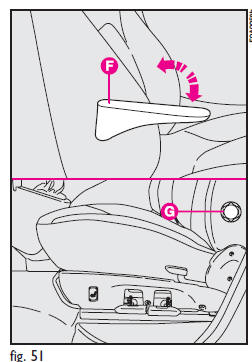 Electrically heated driver's seat fig. 50
Press button B to switch the seat heating on and off.
The LED on the button will light up when the function is on.
Height adjustment
Move lever C-fig. 50 upwards to raise the front seat section and move lever D upwards to raise the rear seat section. Move the levers downwards to lower the seat.
IMPORTANT
The seat shall not be occupied when raising, whereas you must be seated when lowering it.

Only make adjustments when the vehicle is stationary.
See also:
Introduction
The radio has been designed according to the specifications of the passenger compartment, with a personalized design to match the style of the dashboard. If the radio has BLUE&ME™, refer to the ...
Stain Repel Fabric Cleaning Procedure – IfEquipped
Stain Repel seats may be cleaned in the following manner: • Remove as much of the stain as possible by blotting with a clean, dry towel. • Blot any remaining stain with a clean, damp towel. • Fo ...
Fix & go (quick tyre repair kit)
On request the car can be fitted with a quick tyre repair kit, called "Fix & Go", replacing the common tool kit and the spare wheel. The Fix & Go kit is located in the boot under the moquet ...