Rotate the end of the windshield wiper/washer lever upward to the first detent past the intermittent settings for intermittent wipe operation. With the front windshield wiper active, rotate the end of the windshield wiper/washer lever upward. The rear wiper will operate in the same mode as the front windshield wipers, but at half the frequency. When the transmission is shifted into REVERSE, the rear wiper will automatically operate at Low Speed and return to normal operation when the transmission is shifted out of REVERSE.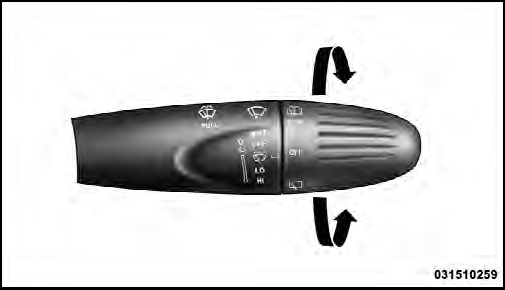 Rear Wiper Operation

NOTE: The windshield wipers/washers will only operate with the ignition in the ON/RUN position.
Rear Windshield Washer Operation
Push the windshield wiper/washer lever toward the instrument panel to activate the rear washer. Push and hold the lever for more than a half second and the wipers will activate automatically for three cycles after the lever is released.
See also:
Transmission Limp Home Mode
Transmission function is monitored electronically for abnormal conditions. If a condition is detected that could result in transmission damage, Transmission Limp Home Mode is activated. In this mo ...
Engine Break-In Recommendations
A long break-in period is not required for the engine and drivetrain (transmission and axle) in your vehicle. Drive moderately during the first 300 miles (500 km). After the initial 60 miles (100 ...
Activation
The sensors are automatically activated when the reverse gear is engaged. The sound produced by the acoustic alarm becomes louder when the distance between the car and the obstacle decreases. ...