To open the hood, two latches must be released.
1. Pull the bottom of the RED hood release lever, located on the left kick panel, rearward.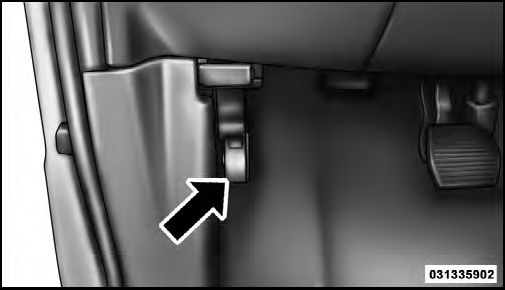 Hood Release Lever
2. Rotate the safety catch under the front edge of the hood, near the center, and raise the hood.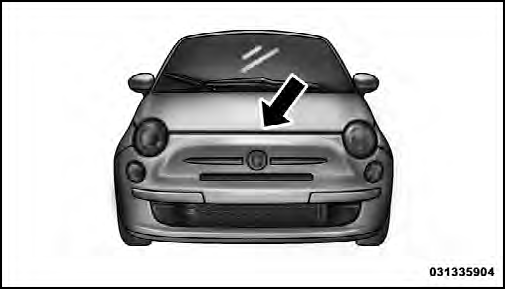 Safety Latch Location
Lift the hood prop rod that clips to the right side (left side when standing in front of the hood) of the engine compartment. Place the hood prop rod in the hole of hood hinge to secure the hood in the open position.
In hot climates, the prop rod may be hot. Pick up the prop rod at the foam on the end of the prop rod.

WARNING!
Be sure the hood is fully latched before driving your vehicle. If the hood is not fully latched, it could open when the vehicle is in motion and block your vision.
Failure to follow this warning could result in serious injury or death.

CAUTION!
To prevent possible damage, do not slam the hood to close it. Lower the hood until it is open approximately 8 in (20 cm) and then drop it. This should secure both latches. Never drive your vehicle unless the hood is fully closed, with both latches engaged.
See also:
Low brake fluid level
Turning the ignition key to MAR the warning light on the dial turns on, but it should go off after few seconds. The warning light turns on (together with the message on the display) when the ...
Replacement Bulbs
Interior Lights Bulb Type Overhead Lamp . . . . . . . . . . . . . . . . . . . . . . . . C5W Courtesy Lamp . . . . . . . . . . . . . . . . . . . . . . . . W5W Exterior Lights Bulb Type Front Low an ...
The Fiat code system
To further protect your vehicle from theft, it has been fitted with an engine immobilising system (Fiat CODE system) which is automatically activated when the ignition key is removed. An electron ...