The climate control system is adjusted manually.
CONTROLS fig. 78
A - Knob for operating the fan and switching the climate control system on and off.
The climate control system can only be switched on when the pointer on this knob is at speed 1, 2, 3 or 4

the led on the knob will light up when the system is on.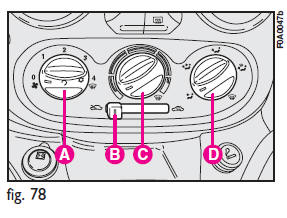 Consequently, the climate control system cannot be switched on when the pointer is at 0
B - Recirculation slider, to cut out outside air.
IMPORTANT
This function is particularly useful when the outside air is heavily polluted (in a traffic jam, tunnel, etc.) and when running on dusty roads. You are advised against using this function for long periods, however, especially if there are a lot of people in the vehicle or on cold or rainy days since the windows could mist up effecting visibility and driving.
C- Air temperature knob (warm/cool air mixer).
D - Air distribution knob.

The system uses refrigerating fluid R134a which will not pollute the environment if it accidentally leaks.
Under no circumstances should fluid R12 be used as this is incompatible with the system's component parts.
See also:
Front sidelights
To change the bulb, proceed as follows: 1) Remove the protection cover B-fig. 18 turning it counterclockwise; 2) Press tabs A-fig. 21, remove the bulb holder from housing B and remove the bulb C ...
Older Children And Child Restraints
Children who are two years old or who have outgrown their rear-facing convertible child seat can ride forwardfacing in the vehicle. Forward-facing child seats and convertible child seats used in t ...
8. Generic Warning Light
The Generic Warning Light will illuminate if any of the following conditions occur: Oil Change Request, Engine Oil Pressure Sensor Failure, External Light Failure, Fuel Cut-Off Intervention, Fue ...