See previous chapter for air distribution and heating/ventilation functions.
IMPORTANT
The manual climate control system is very useful for speeding up the demising process because it dries the air. Simply adjust the controls for the demisting function (see previous section) and switch the manual climate control system on by pressing knob A-fig. 78.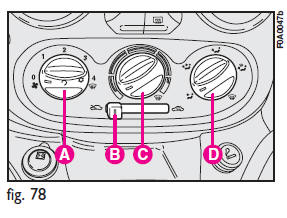 Maximum cooling
1) Air temperature knob C: pointer in the blue sector.
2) Fan knob A at fourth speed, pointer at 4

.
3) Slider B: at

.
4) Air distribution knob D: pointer at

5) Climate control system: press knob C-fig. 78.
To moderate the cooling effect: position slider B at
increase the temperature and reduce the fan speed.
See also:
Instrument panel, display and button lighting adjustment (light rheostat)
With this function it is possible to adjust the lighting (dimming/brightening) of the instrument cluster, and two-zone climate control display (where required). To adjust proceed as follows: &nb ...
Dashboard
The presence and the position of the instruments and warning lights may vary according to the versions. 1. Side swivel vent - 2. Side fixed vent - 3. Oddment compartment - 4. Horn - 5. Instrume ...
Engine Oil Filter
The engine oil filter should be replaced with a new filter at every engine oil change. Engine Oil Filter Selection All of this manufacturer's engines have a full-flow type disposable oil filter. ...