See previous chapter for air distribution and heating/ventilation functions.
IMPORTANT
The manual climate control system is very useful for speeding up the demising process because it dries the air. Simply adjust the controls for the demisting function (see previous section) and switch the manual climate control system on by pressing knob A-fig. 78.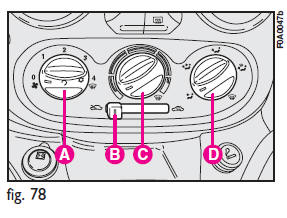 Maximum cooling
1) Air temperature knob C: pointer in the blue sector.
2) Fan knob A at fourth speed, pointer at 4

.
3) Slider B: at

.
4) Air distribution knob D: pointer at

5) Climate control system: press knob C-fig. 78.
To moderate the cooling effect: position slider B at
increase the temperature and reduce the fan speed.
See also:
Anti-Lock Brake System (ABS)
This system aids the driver in maintaining vehicle control under adverse braking conditions. The system controls hydraulic brake pressure to prevent wheel lockup and help avoid skidding on slipper ...
Heated Seats — If Equipped
On some models, the front driver and passenger seats may be equipped with heaters in both the seat cushions and seatbacks. The controls for the front heated seats are located on the center instrum ...
Control buttons
To use the information the "Digital display", "Multifunction display" and "Reconfigurable multifunction display" are able to give (with the ignition key at MAR), you should firstly familiarise w ...