See previous chapter for air distribution and heating/ventilation functions.
IMPORTANT
The manual climate control system is very useful for speeding up the demising process because it dries the air. Simply adjust the controls for the demisting function (see previous section) and switch the manual climate control system on by pressing knob A-fig. 78.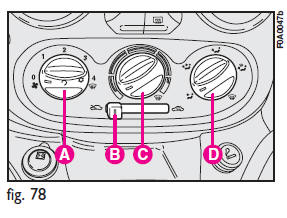 Maximum cooling
1) Air temperature knob C: pointer in the blue sector.
2) Fan knob A at fourth speed, pointer at 4

.
3) Slider B: at

.
4) Air distribution knob D: pointer at

5) Climate control system: press knob C-fig. 78.
To moderate the cooling effect: position slider B at
increase the temperature and reduce the fan speed.
See also:
Number plate light
To replace a bulb, press the tab in the point shown in fig. 33 and remove the cluster. Turn the bulb holder Afig. 34 anticlockwise and remove bulb B. ...
Manual climate control system
...
General Information
• You can launch the vehicle from a stop in first, second, or third gear. The system will ignore attempts to shift into a higher gear if the engine speed is too low. An audible beep will sound if ...