See previous chapter for air distribution and heating/ventilation functions.
IMPORTANT
The manual climate control system is very useful for speeding up the demising process because it dries the air. Simply adjust the controls for the demisting function (see previous section) and switch the manual climate control system on by pressing knob A-fig. 78.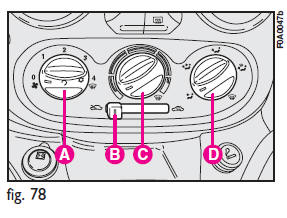 Maximum cooling
1) Air temperature knob C: pointer in the blue sector.
2) Fan knob A at fourth speed, pointer at 4

.
3) Slider B: at

.
4) Air distribution knob D: pointer at

5) Climate control system: press knob C-fig. 78.
To moderate the cooling effect: position slider B at
increase the temperature and reduce the fan speed.
See also:
Conditions of use
Cold starting Frequent cold starting will not enable the engine to reach optimal running temperature. It follows, therefore, that consumption will be higher (from +15 to +30% in towns) as will th ...
(C) Injecting TIREFIT Sealant Into The DeflatedTire
Х Always start the engine before turning ON the TIREFIT kit. NOTE: Manual transmission vehicles must have the parking brake engaged and the shift lever in NEUTRAL. Х After pressing the Power Butt ...
Bump starting
Catalyzed vehicles must not be bump started (pushed, towed or coasted down hill) as this could cause fuel to flow into the catalytic exhaust system and damage it beyond repair. Remember that u ...