See previous chapter for air distribution and heating/ventilation functions.
IMPORTANT
The manual climate control system is very useful for speeding up the demising process because it dries the air. Simply adjust the controls for the demisting function (see previous section) and switch the manual climate control system on by pressing knob A-fig. 78.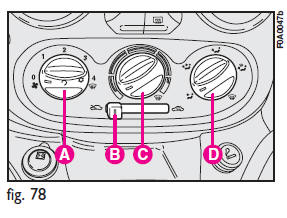 Maximum cooling
1) Air temperature knob C: pointer in the blue sector.
2) Fan knob A at fourth speed, pointer at 4

.
3) Slider B: at

.
4) Air distribution knob D: pointer at

5) Climate control system: press knob C-fig. 78.
To moderate the cooling effect: position slider B at
increase the temperature and reduce the fan speed.
See also:
Exit menu (Exit Menu)
This is the last function that closes the circular setting cycle listed in the initial menu screen. Start of journey procedure (reset) To start a new journey monitored by the "General trip", wit ...
Glow plug warming failure
The warning light on the dial flashing (on certain versions together with the message on the display) when there is a failure in the glow plug warming system. Contact Fiat Dealership as soon a ...
Ignition switch
The key can be turned to 4 different positions: ❒ STOP: engine off, key can be removed, steering column locked. Certain electrical devices (e.g.: sound system, power windows, etc.) can wor ...