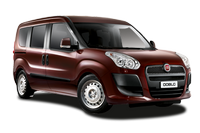 Meet the Fiat Doblò, the new Fiat that is all about space. A space to be shared with family and friends, a liveable space for travelling and socialising, for whoever chooses the Fiat Doblò as a partner for leisure or work. It was designed with practicality and comfort in mind to make the best of space on board and accommodate up to seven occupants. An authentic "family space" vehicle that can rely on top-class safety, cost-effective running and environment-friendliness.
See also:
Diesel engines
If the outside temperature is very low, the diesel thickens due to the formation of paraffins and could clog the diesel fuel filter. In order to avoid these problems, different types of diesel are ...
(A) Whenever You Stop To Use TIREFIT
1. Pull over to a safe location and turn on the vehicle's Hazard Warning flashers. 2. Verify that the valve stem (on the wheel with the deflated tire) is in a position that is near to the ground. ...
Enhanced Accident Response System
In the event of an impact causing airbag deployment, if the communication network remains intact, and the power remains intact, depending on the nature of the event the ORC will determine whether ...