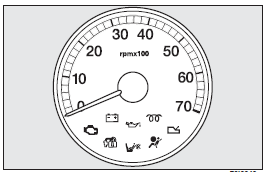 The rev. counter shows engine rpm. The needle pointed to the danger area (red on certain versions) indicates excessive high engine speed. Do not drive for long periods with the needle in this area.
IMPORTANT The electronic injection control system gradually shuts off the flow of fuel when the engine is "over-revving" resulting in a gradual loss of engine power.
When the engine is idling, the rev counter may indicate a gradual or sudden highering of the speed.
This is normal as it takes place during normal operation, for example when activating the climate control system or the fan. In particular a slow change in the speed preserves the battery charge.
See also:
GROUP 0 and 0+
Babies up to 13 kg must be carried facing backwards on a cradle seat, which, supporting the head, does not induce stress on the neck in the event of sharp deceleration. The cradle is restrained by ...
Wheel And Wheel Trim Care
All wheels and wheel trim, especially aluminum and chrome-plated wheels, should be cleaned regularly with a mild soap and water to prevent corrosion. To remove heavy soil, use MOPAR Wheel Cleaner ...
General instructions
❒ When a light is not working, check that the corresponding fuse is intact before changing a bulb. For the location of fuses, refer to the paragraph "If a fuse blows" in this section; ...