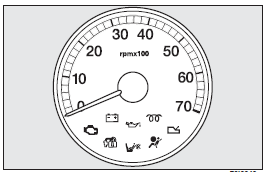 The rev. counter shows engine rpm. The needle pointed to the danger area (red on certain versions) indicates excessive high engine speed. Do not drive for long periods with the needle in this area.
IMPORTANT The electronic injection control system gradually shuts off the flow of fuel when the engine is "over-revving" resulting in a gradual loss of engine power.
When the engine is idling, the rev counter may indicate a gradual or sudden highering of the speed.
This is normal as it takes place during normal operation, for example when activating the climate control system or the fan. In particular a slow change in the speed preserves the battery charge.
See also:
Starting procedure for petrol versions
1) Ensure that the handbrake is up. 2) Put the gear lever into neutral. 3) Press the clutch pedal fully down, without pressing the accelerator. 4) Turn the ignition key to AVV and let it go the mom ...
Diesel particulate filter clogged
(1.3 Multijet 85 HP and 1.9 Multijet 120 HP versions) (Amber) diesel particulate filter is clogged and the driving conditions do not enable to activate automatically the reclaiming procedure. To ...
Tailgate emergency opening
On versions with front seats that do not fold over, there is an opening device inside the tailgate to allow the occupants to evacuate the rear seats in an emergency. To unlock the tail age, operat ...