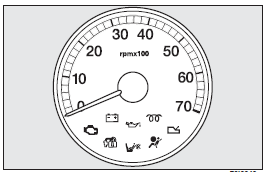 The rev. counter shows engine rpm. The needle pointed to the danger area (red on certain versions) indicates excessive high engine speed. Do not drive for long periods with the needle in this area.
IMPORTANT The electronic injection control system gradually shuts off the flow of fuel when the engine is "over-revving" resulting in a gradual loss of engine power.
When the engine is idling, the rev counter may indicate a gradual or sudden highering of the speed.
This is normal as it takes place during normal operation, for example when activating the climate control system or the fan. In particular a slow change in the speed preserves the battery charge.
See also:
Fuel reserve
Turning the ignition key to MAR, the warning light on the instrument panel shall turn on but it should go off after a few seconds. The warning light turns on (on certain versions together with ...
Passenger seat compliance with regulations on child's seat use
Fiat Punto complies with the new Directive 2000/3/EC regulating child's seat assembling on the different car seats according to the following tables: Front and rear seat (3 and 5-door versions) ...
What Causes Corrosion?
Corrosion is the result of deterioration or removal of paint and protective coatings from your vehicle. The most common causes of corrosion are: • Road salt, dirt and moisture accumulation. • Sto ...