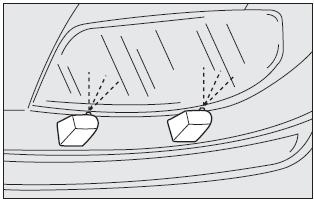 They are activated automatically when the windscreen washer is operated with dipped beam headlights or main beam headlights on.
IMPORTANT Regularly check that the spray jets are intact and clean.
Never use the rear window wiper to remove ice or snow from the rear window. In these conditions, the wiper is submitted to excessive effort that results in motor protection cutting in and wiper operation inhibition for few seconds as a consequence. If operation is not restored contact Fiat Dealership.
See also:
Engine coolant temperature gauge
This shows the temperature of the engine coolant fluid and begins working when the fluid temperature exceeds approx. 50∞C. Under normal conditions, the needle should hover around the middle of the ...
EVIC Displays
EVIC Display Manual Transmission 1 Ч Temperature Indicator 6 Ч Message Display 2 Ч Fuel Level Gauge 7 Ч Coolant Temperature Gauge 3 Ч Clock 8 Ч Digital Speedometer 4 Ч Odometer 9 Ч Ice ...
Bump starting
Catalyzed vehicles must not be bump started (pushed, towed or coasted down hill) as this could cause fuel to flow into the catalytic exhaust system and damage it beyond repair. Remember that u ...