To prevent opening the sliding side doors from the inside.
Engage by inserting the tip of the ignition key as shown in fig. 113 and turning it.
Position 1 - device off.
Position 2 - device on.
The device will be engaged even if the doors are unlocked electrically.

When children are present in the vehicle this device should always be used.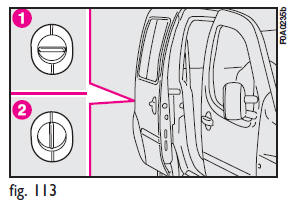 See also:
Headlights
Rotate the end of the multifunction lever upward to the first detent for headlight operation. Headlight Operation NOTE: When the headlights are turned on, the Daytime Running Lights will be ...
General
A fuse is an element for protecting the electrical system. A fuse will trip (i.e. it will blow) in the event of a failure or improper interventions in the electrical system. If an electrical devi ...
Towing the vehicle
A tow hitch is provided with the vehicle. To fasten the tow hitch: 1) Remove the tow ring from the tool bag. 2) Remove the flap fig. 46 on the bumper levering with a screwdriver in the point show ...