To prevent opening the sliding side doors from the inside.
Engage by inserting the tip of the ignition key as shown in fig. 113 and turning it.
Position 1 - device off.
Position 2 - device on.
The device will be engaged even if the doors are unlocked electrically.

When children are present in the vehicle this device should always be used.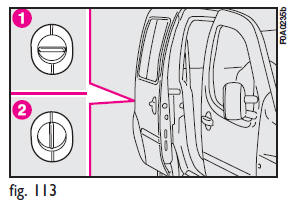 See also:
Restoring the use of the rear seat
Versions with single seat Perform operations in a reverse order with respect to what previously described for the boot extension operation. To prevent buckles from remaining positioned below th ...
Lap/Shoulder Belt Operating Instructions
1. Enter the vehicle and close the door. Sit back and adjust the seat. 2. The seat belt latch plate is along side the pillar near the back of your seat. Grasp the latch plate and pull out the belt. ...
Loading
The vehicle maximum load on the tire must not exceed the load carrying capacity of the tire on your vehicle. You will not exceed the tire's load carrying capacity if you adhere to the loading cond ...